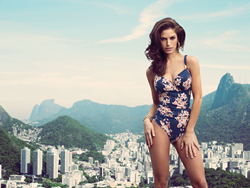 Wearing the right size swimwear is just as important as the right size lingerie, ensuring you are getting the correct level of support, the right shape and that you are comfortable
Desborough, Northamptonshire, UK (PRWEB) May 24, 2014
Leading online boutique Leia has revealed its line-up of shaping swim styles for summer 2014. The retailer, who allow shoppers to buy swimwear online via leialingerie.com, offer collections which aim to provide superior shape and support in a range of one-piece and bikini swimwear looks.
As well as presenting their latest product lines, Leia also announced a year-on-year sales increase. The number of customers purchasing ladies' swimwear was up 21% on the same period in 2013.
Leia's wide selection of swimwear brands includes popular names such as Freya, Fauve and Huit. However, it was collections from Fantasie that saw the largest increase in sales. The brand, which creates bra-sized swimwear up to a J-cup, experienced a 68% boost compared to the previous year.
Leia went on to reveal that the top-selling swimwear styles from the Fantasie collection are swim briefs, full-cup bikinis and underwired tankinis – all of which are up by 75% compared to 2013 figures. When it came to colours, customers showed a strong preference for blue, red and black.
One of Fantasie's many popular ranges is Malola. It's a look that aims to offer versatility with a choice of printed or polka dot brief. The supportive bandeau bikini top provides flattering shape and bust definition in sizes up to a G-cup. It also features a vibrant tropical print, which can be complemented with an adjustable leg brief in a contrasting design. Fantasie describe Maloloa as being perfect for hourglass figures; with a bandeau bikini that makes the most of a fuller bust, whilst the adjustable brief lengthens the leg to accentuate natural curves.
Pollonia, also from Fantasie, is another collection that has proved very popular with Leia shoppers. Pollonia features sprigs of natural flowers against a sand-washed blue background. It has also been designed with an underwired plunge bikini top to give shape and support from a 32" D-cup to a 38" GG-cup. The look is complemented with a choice of classic or mid-rise brief styles, as well as a jersey maxi dress.
Nigel Addison from Leia stressed that: "Wearing the right size swimwear is just as important as the right size lingerie, ensuring you are getting the correct level of support, the right shape and that you are comfortable. We offer a great number of swimwear styles for all shapes and sizes, from Huit swimwear in sizes A to E cup, or Elomi Swim available up to a HH cup. We're so pleased to see such a boost in popularity for Fantasie swim for SS14, which offers vintage inspired styles mixed with bright tropical island prints."
About Leia
Leia has over ninety years of lingerie design experience and aims to provide inspiring and affordable lingerie swimwear and sportswear, from an A to a K cup. Leia principally allow women to buy lingerie online via their retail website, but they also have boutiques in York and Cardiff, as well as Kent's Bluewater shopping centre. The Leia range featuring a wide choice of brands, including Freya, Fantasie, Fauve, Elomi and Huit, with ranges available from a 28" to 48" back. To find out more about Leia, visit http://www.leialingerie.com.