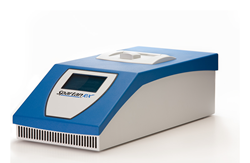 "We congratulate Katy on being named Ottawa's Top 40 Under 40. She is an outstanding executive and we are privileged to work with her." - Paul Lem, M.D., CEO of Spartan Bioscience
Ottawa, Ontario (PRWEB) May 27, 2014
Spartan Bioscience today announced that Katy Pelletier, Spartan's Director of Sales, has been selected by the Ottawa Chamber of Commerce as one of the city's Top 40 Under 40. Ms. Pelletier was selected from over 250 applicants based on her business accomplishments, professional expertise, and community involvement.
As Spartan's Director of Sales, Ms. Pelletier is responsible for sales and marketing strategy, and management of the sales team and distributors. Prior to Spartan, she was a top sales performer at biotechnology companies such as Roche Diagnostics, Sigma-Aldrich, and DNA Genotek. Outside of the office, Ms. Pelletier is co-chair of the Ottawa Chapter at Women Powering Technology (WPT), an organization that inspires and empowers women in technology.
"We congratulate Katy on being named Ottawa's Top 40 Under 40," said Paul Lem, M.D., CEO of Spartan Bioscience. "She is an outstanding executive and we are privileged to work with her."
About Spartan Bioscience
Spartan Bioscience is the leader in on-demand DNA testing.(1) Spartan is bringing complete sample-to-result DNA testing systems to medicine. Spartan's technology fully integrates DNA collection, extraction, and analysis, with an intuitive interface that is easy to operate. For the first time, healthcare providers and their patients can get DNA results on demand. For more information, please visit our website at: http://www.spartanbio.com.
The Spartan logo is a registered trademark of Spartan Bioscience Inc.
1. Roberts JD et al. (2012). Lancet. 379:1705–11.