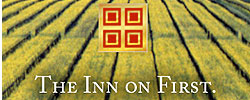 Napa, CA (PRWEB) May 23, 2014
A California summer is always a highly anticipated time of the year in the rolling hills of Napa Valley, and The Inn on First wants to help visitors enjoy their stay to the fullest.
From wineries to restaurants and accommodations, there is plenty that Napa Valley has to offer and The Inn on First, Napa, CA's premier resort destination for romantic getaways, has a few tips to offer guests so they can fully experience the bliss and excitement of America's "Wine Country."
Especially during the summer months, it is recommended to drink one bottle of water (approx. 8 oz.) per winery visited. The Inn on First provides stainless steel water bottles for guests to use during their stay. Ideally, a person should take a sip of water in between each varietal tried. It is also suggested to bring a sweater or light jacket. Some wineries have caves that are on the cooler side, and the nights in southern Napa Valley, near the city of Napa, have a tendency to cool off with the moist air coming off the bay.
The Inn wants to remind those doing a wine tasting to go very light on the perfume or cologne; ideally, neither should be worn at all during a wine tasting. Those smells can get in the way of being able to properly taste the wine, and some wineries have been known to ask guests to leave who are overly perfumed and interfering with other guest experiences.
Wine tours should be booked four to six weeks in advance. During the summer every day is busy in Napa, including the weekdays. Wineries are open seven days a week and many locals like to come up for the day for wine tasting.
If guests want to dine where and when they want, dinner reservations should also be made four to six weeks in advance. With the growth of the restaurant scene in the city of Napa, all within walking distance of the Inn on First, Napa is becoming a foodie hotspot, and locals are driving into town to enjoy some of the great dining places.
Plan on a picnic lunch: The Inn on First has many intimate winery picnic spots to recommend, as well as places to pick up lunch. The Inn on First also provides each guest with a picnic basket to use during their stay.
Staying at a bed and breakfast inn and not a hotel is more ideal for a pleasant and reassuring stay. This allows for guests to meet the owners, get to know the locals, and get all the local insight on where to go, what to do and what restaurants to visit. It makes any stay more personal and intimate, less anonymous and corporate.
For a pleasing and comfortable accommodation option like this, find out what The Inn on First has to offer by visiting their website at http://www.theinnonfirst.com/ or calling 707-253-1331.
About the company:
The Inn on First provides romantic getaways in the Napa Valley that will surpass all expectations. They can offer landscapes of rolling hills and beautiful vineyards of the entire Napa Valley. With a location that is one of the most sought after destinations in the country, the Inn and rooms are the perfect complement to a Napa Valley experience and make for a romantic atmosphere for loved ones. The Inn on First is always committed to providing their guests with an experience unlike any other, providing them with the utmost care and service. For more information, please visit their website at http://theinnonfirst.com/.