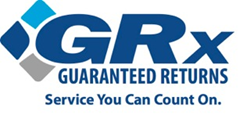 Propel Guaranteed Returns® forward from an I.T. perspective
Holbrook, New York (PRWEB) May 28, 2014
Guaranteed Returns®, the pharmaceutical returns industry founder and leader, is proud to welcome William Burke to the company as its I.T. Director.
William leads all I.T. operations and resources to meet the business needs of Guaranteed Returns® and its customers. His 20 plus years of experience and information technology leadership positions him as a valuable and strategic member of Guaranteed Returns® senior staff.
His most recent positions include Director of I.T. at Globecomm Systems, Inc. and Americorp, Inc. financial services."
"I look forward to continuing to propel Guaranteed Returns® forward from an I.T. perspective," says William.
About Guaranteed Returns®
For over 25 years, Guaranteed Returns® has provided pharmaceutical return services to hospital, government, independent retail, chain-store, LTC, Mail-Order and clinic pharmacies. Local GRx on-site service representatives are highly valued by customers for their professionalism, trustworthiness and for "going above and beyond."
Business review consultations, inventory management assistance and unbeatable customer service are just a few of the attributes that customers say sets GRx apart.
Contact Guaranteed Returns® at 1-800-473-2138, on LinkedIn or at http://www.guaranteedreturns.com.