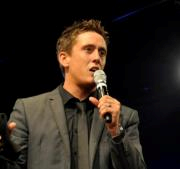 "You won't want to miss the GOD TV Summer Celebration this July in Plymouth, England! Tickets are free, we already have close on 2,000 people registered from all over the UK and many international viewers will be joining us." Rory Alec, GOD TV CEO
Plymouth, Devon (PRWEB UK) 31 May 2014
The event will be held at the Plymouth Pavilions, in close proximity to GOD TV's Revival Prayer Centre, which is currently being refurbished before it officially opens to the public in 2015. Tickets to Summer Celebration are free, but online booking is required at god.tv/event/book.
Rory and Wendy Alec founded GOD TV in the UK in 1995 and feature on many LIVE broadcasts on the network. They are also known for several series including Behind The Screens, Apocalypse And The End Times and The Rory & Wendy Show. Wendy Alec is the best-selling author of the Chronicles of Brothers and her newly released book 'Visions From Heaven' is already in its second reprint. Rory and Wendy will welcome viewers to the Summer Celebration event along with the GOD TV team.
Nathan Morris is a celebrated UK evangelist who heads up 'Shake the Nations'. He has held city-wide crusades at several UK venues and is known worldwide for the Bay Revival televised exclusively on GOD TV for several months, also featuring Lydia Stanley-Marrow who has written and produced two revival worship albums. The Bay Revival is popular with GOD TV Viewers and people from all over the UK and beyond are expected to travel to Plymouth to experience this powerful ministry partnership first-hand. Nathan Morris will speak on 17, 18 and 19 July at 7:30pm.
Canon Andrew White is the Vicar of St George's Church in Baghdad and president of The Foundation for Relief and Reconciliation in the Middle East. His book 'Faith Under Fire' tells how he and his congregation are standing strong in the face of the constant turmoil in war-torn Iraq. To date 1276 of his members have tragically been killed, but Canon White continues to care for several thousand people each week, Christians and Muslims alike, providing much-needed food, medical care and education. Canon White will speak on 18 July at 10am.
"You won't want to miss the GOD TV Summer Celebration this July in Plymouth, England!" said GOD TV CEO, Rory Alec. "Tickets are free, we already have close on 2,000 people registered from all over the UK and many international viewers will be joining us."
As part of Summer Celebration GOD TV is offering viewers an opportunity to participate in 'The 'Mayflower Experience', a boat trip leaving from the historic Mayflower Steps, where the Pilgrim Fathers sailed to the New World. Tickets for this are £25 and include a pass for the 777 GOD Bus throughout the duration of the conference.
GOD TV can be watched throughout the UK on satellite (SKY and Freesat); via cable (Virgin); and on the Internet (Roku / iPhone and god.tv). A GOD TV App is also available on iTunes.
About GOD TV: GOD TV was founded in London in 1995 by Rory and Wendy Alec and has since grown into a global network. GOD TV is owned by several Angel Charities internationally, including the Angel Foundation in the UK. The network's worldwide broadcast license is held by Angel Christian Television Trust Inc., a US not-for-profit corporation and its charities adhere to the UK Evangelical Alliance Basis of Faith. GOD TV transmits worldwide from Jerusalem to a potential viewership of 951 million people who can access GOD TV's free to air signal. In addition to its premises in Plymouth GOD TV has regional offices in the USA, Europe, Africa, Asia and the Middle East and Australasia. Over and above its programming, GOD TV helps people in charitable ways, supporting orphanages, feeding initiatives and life-giving water projects.
Contact: Dean Seddon, GOD TV Head of Ministry Development at dseddon(at)god(dot)tv
GOD TV Broadcast HQ: Jerusalem, Israel. International offices: USA (Orlando, Florida; Kansas City, Missouri) UK & Ireland (Sunderland & Plymouth, England), Europe (Hamburg, Germany), Asia & Middle East (Chennai, India; Sri Lanka), Africa (Cape Town, South Africa; Nairobi, Kenya), Australasia (Melbourne, Australia).