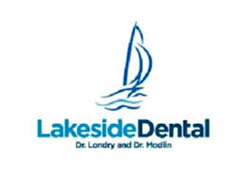 Lake Norman, NC (PRWEB) May 30, 2014
Most people want a bright and healthy-looking smile, but they are less enthusiastic when it comes to regular dental visits. Lake Norman dentists Dr. Ryan Londry and Dr. Michael Modlin have come up with an innovative program to encourage their patients to maintain their oral health. Lakeside Dental, in Cornelius, N.C. is offering free dental whitening for life to new and current clients.
"People whiten their teeth because it makes them feel good about themselves. It's a self-esteem thing," says Dr. Modlin, co-founder of Lakeside Dental. "And people who exercise and get outside tend to do it because they enjoy it -- not for an abstract reason like 'I'll live longer and be more healthy.' So we thought that we could apply that same motivation to dental work." A former Eagle Scout, Dr. Modlin knows that short-term motivations work hand-in-hand with long term benefits to motivate people of any age.
Whitening treatments work best on teeth that have been freshly cleaned, which is what allows Dr. Modlin and Dr. Londry to monitor the health of their clients. Dr. Londry explains, "People are actually excited to get their teeth whitened -- especially for free. So they don't balk when you say, 'But first, we have to get your teeth cleaned, because whitening doesn't work on plaque.' Having a whitening session to look forward to changes a dental appointment from a chore to something almost like a spa day. And regular cleaning, of course, heads off the worst dental issues, meaning that we can nip dental problems in the bud, sometimes even the same day."
The dentists at Lakeside Dental feel free whitening for life is a small price to pay for healthy clients.
About Lakeside Dental
Lakeside Dental is a patient-friendly dental clinic committed to the highest quality care and comfort. Offering a full range of services from cleaning and fillings to cosmetic dentistry and orthodontics, the staff at Lakeside Dental are dedicated to ensuring that every client has a pleasant experience. Call for your appointment today at (704) 987-9087 or visit them online at http://lakesidedentalnc.com.