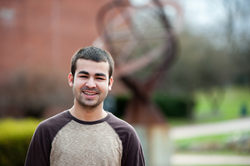 Randolph Center, VT (PRWEB) May 23, 2014
Vermont Tech is proud to announce that 2014 Vermont Academy of Science and Technology (VAST) student Indra Acharya has received the prestigious Gates Millennium Scholarship. The second Vermonter ever to receive this distinction, Acharya will attend Georgetown University this fall on a full ride, where he plans to study law and politics. VAST is an independent, accredited high school program that allows high school seniors to take a full year of college-level classes at Vermont Tech while completing their high school degree.
Established in 1999 and funded by the Bill & Melinda Gates Foundation, the Gates Millennium Scholars (GMS) Program selects 1,000 talented students nationwide each year to receive a scholarship to the college or university of their choice. The goal of GMS is to promote academic excellence and to provide opportunities for outstanding minority students.
"We are extremely proud of Indra and this important distinction, said Susan Polen," director for Vermont Tech's Center for Academic Success and VAST. "As a stand-out student and involved community member, it is no surprise to us that he is being honored on a national level. He is an inspiration to the VAST and Vermont Tech communities and we look forward to seeing how he continues to grow at Georgetown."
Acharya was born and raised in a Bhutanese refugee camp in Nepal. He moved to Winooski, VT in 2012 and will graduate from Winooski High School this June. An active member of the local community and government, Acharya holds a number of leadership roles in organizations such as the Multicultural Club at Vermont Tech, the Forum of Bhutanese Student in Vermont, which he co-founded, the Bhutanese American College Students' Association and more. Acharya is the recipient of a number of academic achievement awards and is also a peer mentor at Vermont Tech and an assistant cook at the dining hall.
"I am honored to have been selected as a Gates Millennium Scholar," said Acharya. "VAST provided me with a crucial support system and was a wonderful way to receive advice and prepare for college courses. I'm thrilled to have the opportunity to pursue my goals at Georgetown."
In addition to the Gates Millennium Scholarship, Acharya also received the 1789 Scholarship from Georgetown, also known as the Georgetown Scholars Program, and is enrolled in a pre-freshman summer program for 50 future leaders called the Community Scholars Program.
To learn more about the VAST program at Vermont Tech, please visit http://www.vtc.edu/vast.
###
About Vermont Tech – Vermont Tech is a leading public college with a mission of applied education. One of the five Vermont State Colleges, Vermont Tech serves students from throughout Vermont, New England, and beyond at its two residential campuses in Williston and Randolph Center, regional campuses in Brattleboro and Bennington, and at six nursing campuses located throughout the state. Vermont Tech takes an optimistic, rooted and personal approach to education to support students in gaining the confidence and practical skills necessary to not only see their potential, but to experience it. Our academic programs encompass a wide range of engineering technology, agricultural, health, and business fields that are vital to producing the knowledgeable workers needed most by employers in the state and in the region.