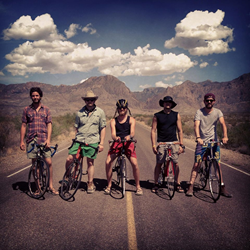 We are happy to support Pedal South as they unite people and cultures.
Rochester, NY (PRWEB) May 27, 2014
Rochester Optical announced they are contributing to Pedal South's humanitarian trip – from Alaska to Argentina – in pursuit of uniting the Americas. Pedal South is made up of 5 men with the goal to celebrate, connect, and inspire the people of the Americas through the storytelling process. Rochester Optical has committed to financially supporting the Pedal South team as well as provide them with Google Glass and Smart Solutions – lenses and frames manufactured by Rochester Optical and designed specifically for Google Glass.
Pedal South will be producing a feature length film documenting their journey and the unique cultures and landscapes they encounter along the way. They begin this trip in June (2014) in Alaska and will journey down the Pan-American Highway to Argentina. Each Pedal South member (3 film-makers, a photographer, and a writer) will assist in creating a feature film of the trip. Additionally, the men will be raising funds along the way to donate to non-profit organizations such as Stand Up to Cancer and Habitat for Humanity through the help of the organization Charity Miles. Pedal South will be using a variety of equipment including Google Glass, a hands-free wearable computer with an optical head-mounted display. Rochester Optical has provided Pedal South with Google Glass as well as Smart Solutions: copper-tinted polarized lenses in Smart Frames, which are optimized for Google's wearable technology. Patrick Ho, CEO of Rochester Optical, states, "We are happy to support Pedal South as they unite people and cultures."
Rochester Optical is a diversified manufacturer of ophthalmic lenses, eyewear, and is a full service wholesale digital optical laboratory with over 80 years of experience. They continue to serve eye care professionals and corporate customers with an eye on service and innovation. Rochester Optical is an independently owned and operated optical lab and manufacturer, and is not affiliated with Google or Google Glass. To find Rochester Optical, go to http://www.rochesteroptical.com. To financially support Pedal South, go to: https://www.kickstarter.com/projects/1108283968/pedal-south