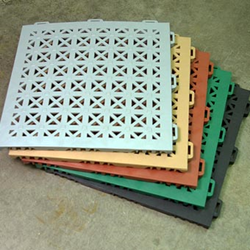 Tiles can sit directly atop a fragile roofing membrane without damaging it.
Milltown, WI (PRWEB) May 24, 2014
Greatmats, an online manufacturer and distributor of specialty flooring products, has introduced the StayLock Perforated Tile. Designed as an outdoor tile for wet areas, it is also made for use on patios, decks, rooftops, and outdoor playgrounds.
StayLock Perforated Tiles are 12" x 12" and 9/16" thick. They are made of a flexible, soft PVC. This allows the tiles to be used in areas such as spa surrounds or pool decks because they are soft underfoot. Because they are on a rounded foot system, the surface of the tile is "floating" above the sub-surface. This means the tiles can sit directly atop a fragile roofing membrane without damaging it. It also creates and ergonomically-friendly flooring that is easy to stand on and provides fatigue relief.
StayLock Perforated Tiles are waterproof and UV treated so they will not fade in the sun. They have a 20" fall-height-rating. This means they add an extra layer of protection for kids in a playground setting. The tiles are made to lay over any hard, flat surface but they can also lie directly over grass or dirt if a landscape fabric or other barrier is in place to keep grass and weeds from growing up through the tiles.
About Greatmats:
Headquartered in Milltown, WI, Greatmats is a leading online dealer of residential and commercial specialty flooring options. Greatmats is 100% solar powered and has been named one of Inc magazine's top 500 fastest growing sites three years in a row. They hold a Triple-A rating with the Better Business Bureau. For further information, contact Greatmats at 877-822-6622 or visit http://www.greatmats.com.