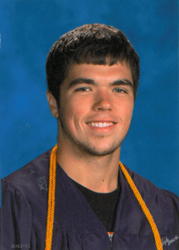 I believe that we become stronger when we are forced to face difficult situations.
Lenexa, KS (PRWEB) June 10, 2014
The IETF is pleased to award a scholarship, sponsored by The Goulden Touch, to Jared Beeson of Oconee, Ill. for the 2014-2015 academic year. Founded by All Pro Kicker Robbie Gould, the mission of The Goulden Touch is to simply help those in need in the areas of: health & wellness, medical research, social service and education, and the mission of this scholarship is to help students in Illinois affected by the neurological condition essential tremor (ET).
As a Health Science major at Eastern Illinois University, Beeson serves as an inspiration to all students living with ET. "I believe that we become stronger when we are forced to face difficult situations. " Beeson said. "I have learned to cope and adapt to the challenges in my life. I believe it has made me a stronger person and instilled a sense of compassion and empathy for those going through difficult situations."
During high school, he was a standout football and varsity track star, a member of the Illinois all-state academic team and National Honor Society and served as a personal aide to a fellow high school student with cerebral palsy during the summer months. Beeson channels the daily challenges of his ET to push for success as an academic scholar and natural leader.
"I know that whatever job Jared is given, he gives it his best," said Rev. Allen J. Ebbler, Beeson's pastor and coach. "Whether working for pay or a pat on the back, Jared gives 100 percent of himself to any task he is given."
IETF scholarships are awarded to qualified students of all ages who have been diagnosed with ET, to lessen the burden of higher education. The scholarship can be used for supplies, books or tuition at licensed, accredited institutions of higher education (including trade schools) and are paid directly to the educational institution.
Essential tremor is a neurological condition that affects more than 10 million Americans. ET causes rhythmic shaking of the hands, head, and voice. ET is often misdiagnosed as Parkinson's disease, although eight times more common. ET is characterized by action tremor, making everyday tasks such as eating, drinking, and writing difficult if not impossible. There is no cure for this life-altering condition.
For more information about the IETF scholarship program, please visit http://www.essentialtremor.org/about-the-ietf/scholarships.
About The International Essential Tremor Foundation:
Headquartered in Lenexa, KS, and founded in 1988, the International Essential Tremor Foundation is the leading organization in the world dedicated to those affected by essential tremor. The mission of the IETF is to fund research that will find the cause of essential tremor and lead to better treatments and a cure, increase awareness about ET, and provide educational materials, tools and support to healthcare providers, the public, and those directly affected by ET.
The IETF has distributed more than $750,000 in research grants, to fund 30 promising studies, in the search for the cause of ET. The Foundation has hosted numerous community awareness events across the U.S. to provide those affected with the basic knowledge necessary to become their own advocate when seeking treatment. And, the IETF also provides assistance to a vast network of support groups around the world. To learn more about essential tremor and the IETF mission, visit the IETF website at http://www.essentialtremor.org.
About The Goulden Touch:
The Goulden Touch is a registered 501c3 Not For Profit Corporation founded by Chicago Bears Kicker Robbie Gould. The mission of The Goulden Touch is simply to help those in need. The idea is to balance the incredible importance of giving to others while also making charitable giving fun. The public charity focuses its areas of giving within four Goulden Rules that include: Education, Health & Wellness, Medical Research and Social Service. For more information, visit http://www.gouldentouch.org.