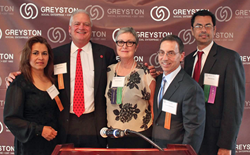 Yonkers, N.Y. (PRWEB) May 23, 2014
Greyston, one of the country's leading social enterprises, celebrated the success of its employees and programs that provide jobs to the hard to employ at its annual benefit on Wednesday, May 21. The event, hosted at the picturesque X20 Xaviars on the Hudson in Yonkers, attracted hundreds of Greyston donors, supporters and community advocates and raised more than $400,000 for Greyston's programs and continued initiatives, including a special auction which brought in $42,000 for its Community Gardens program.
At the benefit, which featured decadent desserts prepared with Greyston brownies and cookie thins, Greyston honored Paraco Gas Corporation CEO and Board Chairman Joe Armentano and The Westchester Bank President and CEO John M. Tolomer, who both spoke on the importance of Greyston to their organizations, the local communities, and encouraged others to hire Greyston employees. Lucy Moreno-Casanova, Greyston's Community Gardens coordinator, also humbly accepted the 2014 Bernie Glassman PathMaking Award, given in honor of founder Bernie Glassman. The award recognizes achievement in an individual's personal growth and movement along their path towards self-sufficiency.
The evening included powerful stories from individuals positively impacted by Greyston's mission, including Greyston building superintendent Julian Vasquez, Community Gardens volunteers Gladis and Alan Martinez, and former bakery employee Kim Fudge. Fudge, who was incarcerated for 36 years, was recently hired by Paraco Gas through Greyston's Next Steps program. He worked at Greyston from 2012 to 2014 and credits his current success to both Greyston and Paraco. "Greyston afforded me an opportunity to reestablish myself in the world of work," Fudge said. "I am truly appreciative that Greyston gave me a job and the opportunity to move on."
For the past 14 years, Moreno-Casanova has expanded Greyston's Community Gardens Program to include seven growing sites, a robust educational enrichment offering at Yonkers Public Schools, an environmental club for local youth, and countless events and activities which reach more than 3,800 people. "Opportunities are the best thing we can give our children, especially in the community of Yonkers," Moreno-Casanova said. "With the Community Gardens, we create a positive environment for children to be in, where they learn about care for each other and for the community."
About Greyston:
Established in 1982, Greyston provides jobs for the hard-to-employ at the country's leading social enterprise, the Greyston Bakery, and uses bakery proceeds to support a wide array of programs and services, including affordable housing, nationally-accredited child care, HIV health services, job training and placement, and a vibrant community gardens program. Greyston reaches nearly 5,000 individuals each year with its programs.