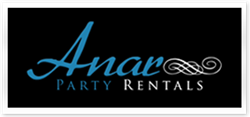 The inviting tones of white tables and chair rentals will complement many of summer's popular color themes.
Vista, CA (PRWEB) May 23, 2014
Anar Party Rentals joins the rest of the country in welcoming warmer weather, and is celebrating the month of May by introducing white party rental equipment. The company will make white table and chair rentals available for weddings, graduations, birthdays, engagement parties, company events, and other functions starting May 25, 2014. Customers can either pick up their rentals, or have their equipment delivered to a desired location. This choice is designed to allow customers the option that best suits their needs.
Anar Party Rentals' white party equipment comes right in time for the approaching summer. The company claims that these rentals will be ideal for outdoor use, and will match well if a customer rents colorful linens for their parties and gatherings. "The inviting tones of white tables and chair rentals will complement many of summer's popular color themes," says David Mohammadi, C.F.O. of Anar Party Rentals.
In addition to offering white party rentals to accent summer events, the company will slash their wholesale prices to make party equipment more affordable for other party suppliers as well. These companies can purchase tables, chairs, linens, and several other items from Anar Party Rentals, and sell or rent them at a profitable price.
Anar Party Rentals has historically focused on renting party equipment, but recently started selling its party equipment at wholesale prices. The company recognized the increasing demand for quality products in the industry, and decided to expand its business. Since adding wholesale sales to their business model, Anar Party Rentals has received positive feedback from other rental companies.
Along with its new white party rentals, the company offers other party items, such as dance floors, dinnerware, lighting, stages, canopies, tents, and a wide variety of wedding accessories. Customers can browse these items online, and either order their rentals through the website, or contact the company directly.
Established in 2006, Anar Party Rentals is a family-owned and operated party supply business located in Vista, CA. For more information, visit anarpartyrentals.com or contact Anar Party Rentals via email at info(at)anarpartyrentals(dot)com.