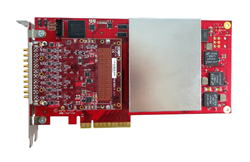 Systems based on the PC768 will benefit from ample logic and DSP resources, as well as large memory density and high-throughput PCIe communication.
Austin, Texas (PRWEB) May 29, 2014
4DSP today announced the release of a new PCI Express product featuring the Xilinx Kintex-7 combined with 16 A/D channels at 250 Msps. The PC768 is a commercial off-the-shelf (COTS) card that features advanced Digital Signal Processing (DSP) and data acquisition capabilities. It is designed for a variety of applications, including Medical and Scientific Imaging and Software Defined Radio (SDR) wideband waveform processing. The PC768 is an excellent, cost-effective choice for applications that require large-band signal digitization and processing through the use of accelerated frequency-domain algorithms.
"Multichannel data acquisition systems offer challenges due to the massive amount of data digitized simultaneously. The Kintex 7-based PC768 has the necessary resources to overcome system throughput bottlenecks typical of DSP and GPP based systems," said Peter Kortekaas, 4DSP Engineering Manager. "Systems based on the PC768 will benefit from ample logic and DSP resources, as well as large memory density and high-throughput PCIe communication," he added.
"The PC768 enables rapid prototyping and timely solutions deployment through the use of 4DSP's StellarIP tool," said Arnaud Maye, 4DSP Software Manager. "StellarIP, part of 4DSP's Board Support Package, offers FPGA design engineers the ability to efficiently implement processing algorithms on the Kintex-7 device. Code reuse and high-level abstraction make it an agile and efficient approach to FPGA firmware design." The PC768 adds to 4DSP's PCIe FPGA card data acquisition product catalog. It is ready to use right out of the box and is well-suited for speeding design to production for both the industrial and defense markets.
Features:

Kintex-7 XC7K160T, XC7K 325T, XC7K410T
16-Channel, 16-bit 250 Msps A/D
PCIe Gen2 x8/4-lane, PCIe Gen3 x4 (softcore)
1GB DDR3 SDRAM
Micro SD Flash (32GB)
External and internal clock
Clock Source, Sampling Frequency through SPI communication busses
Single-ended, AC-coupled analog input signals
A full suite of tools is available to support this card:
Stellar IP - firmware design tool with automated code and bitstream generation
Board control and monitoring tools
Flash programming utility
Confidence tests
Host-side API
Software program example
Test firmware and VHDL source code
Drivers for Windows, Linux, VxWorks
More details about this product can be found on the following page:
Sales Contacts:
USA / International
Michael Brown
Tel: +1 (800) 816-1751
Fax: +1 (775) 473-9928
sales(at)4dsp(dot)com
4DSP LLC, 1210 San Antonio Street, Suite 801, Austin, TX 78701, USA
Europe
Erik Barhorst
Tel: +31-172-782-190
Fax: +31-172-891-261
saleseurope(at)4dsp(dot)com
4DSP BV, Ondernemingsweg 66f, 2404HN, Alphen aan den Rijn, Netherlands
About 4DSP LLC
4DSP is an innovative company specializing in compact, low-power, and low-weight FPGA-based signal and image processing systems. Founded in 2004 and headquartered in Austin, Texas, USA, with offices in the Netherlands, 4DSP develops reconfigurable computers of advanced architecture that offer maximum flexibility and scalability. 4DSP's hardware platforms deliver unmatched performance for advanced digital signal processing (DSP) in embedded computing applications. More information about 4DSP can be found at http://www.4dsp.com.