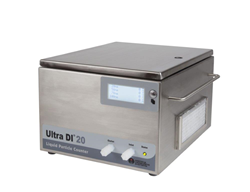 Boulder, CO (PRWEB) May 23, 2014
Particle Measuring Systems announces the release of Ultra DI-20, its latest product for ultra-pure water quality assurance in Semiconductor and related industries. Leveraging their success with the industry leading Ultra DI-50 product, Particle Measuring Systems newest product provides 20nm sensitivity on polymer and <10nm sensitivity on metallic nanoparticle contaminants. This advancement provides real-time visibility to yield impacting nanoparticles at sizes not previously detectable in fluids.
"The Ultra DI-20 nanoparticle counter meets leading edge 300mm and planned 450mm sensitivity requirements in a reliable and repeatable system. Ultra DI-20 correlates well with pre-existing metrology solutions while providing visibility to nanoparticles not previously detectable in real-time. Ultra DI-20 quantifies the very low particle concentration levels encountered in advanced Semiconductor manufacturing. Offering data in multiple channels, Ultra DI-20 characterizes particle size distribution and provides a correlation path from legacy instrumentation into the future," said Brian Knollenberg, VP/GM of the Electronics Division at Particle Measuring Systems.
Particle Measuring Systems is the global leader in environmental monitoring technology, with over 40 years of experience providing solutions for particle and microbial monitoring for companies manufacturing in clean environments. As the inventors of laser-based particle counters, Particle Measuring Systems sets the standard for particle monitors in semiconductor, data storage, pharmaceutical, nanomaterial, aerospace and related industrial manufacturing.