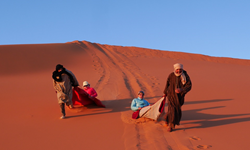 New 13-day Morocco tour starting at $2,399 with international airfare from smarTours.
New York, New York (PRWEB) May 27, 2014
smarTours, a leading provider of affordable, high-quality international tour packages across the globe, is proud to announce the launch of its thirteen-day Majestic Morocco tour, starting at an incredibly low price of $2,399 per person, including round-trip, non-stop international airfare. Destinations include Casablanca, Marrakesh, Dades, Erfoud, Fez, and Rabat. Rates are based on an early booking discount for reservations made prior to June 26, 2014 for this comprehensive tour of the country.
One of Africa's most spectacular destinations, Morocco's untouched mountains, serene deserts with towering sand dunes, beautiful coastlines, and vibrant imperial cities converge to create an amazing travel experience throughout the region. Combine all of that with fantastic hospitality and world-famous cuisine, and any traveler will have an unforgettable adventure. Space is limited for this trip of a lifetime!
On smarTours' journey to Morocco, smarTours travelers will begin with a day and night in Casablanca, one of the largest and most important cities in all of Africa. On the next leg of the tour, travelers will explore Marrakesh, the "Red City", a majestic place filled with palaces, gardens, markets (or "souks") and mosques. During this three-night stay in Marrakesh at an upscale hotel, visit the Saadian Tombs, the Koutoubia Mosque, and the Bahia Palace. smarTours travelers will also enjoy one of the most memorable parts of any trip to Marrakesh, a walk through the UNESCO World Heritage Medina with its palm readers, snake charmers, acrobats, and musicians, among experiencing a variety of other exciting activities throughout this wonderful city. After an incredible experience in Casablanca and Marrakesh, visit the cities of Dades, Erfoud, Fez, and Rabat, highlighted by an excursion through the Erg Chebbi, the largest sand desert in Morocco, where travelers will trade automobiles for camels for the authentic Moroccan travel experience. This journey through the Merzouga dunes on camelback will leave any experienced traveler with memories that will last a lifetime (and amazing pictures as well)!
The smarTours Majestic Morocco tour package includes round-trip, non-stop international airfare from JFK via Royal Air Maroc, ground transportation and transfers, accommodations at first class hotels, 18 meals, comprehensive sightseeing tours, and an experienced English speaking Tour Director throughout. The amazing value of $2,399 per person, including airfare, is based on an early booking discount for reservations made prior to June 26, 2014. The first scheduled departure date is October 10, 2014.
For more information about smarTours Majestic Morocco package, please call smarTours at 1-800-337-7773 or visit the smarTours website!
About smarTours
smarTours was founded in 1996 with one goal in mind: to provide high quality, exciting group tour packages to some of the most fascinating countries in the world at the lowest possible price. The team at smarTours believes deeply that high quality international travel should be affordable. Since 1996, we have provided unbeatable travel experiences to over 130,000 happy travelers. Most of our travelers are repeat customers, including many who have traveled with smarTours 5, 10, even 15 times. Our tours, which we stand behind as "Best Travel Bargains", have received considerable press coverage over the years from the likes of the Washington Post, New York Times, Los Angeles Times, and USA Today, among many others. smarTours has also been the recipient of several prestigious awards for providing some of the best value in travel, including: "Best Provider of Vacation Package Deals to Europe or Asia" (2012 Travelzoo Awards) and "Best Priced Packages to South Africa" (2010 Ubuntu Tourism Awards).