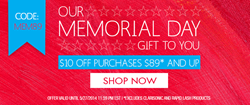 (PRWEB) May 24, 2014
This Memorial Day weekend, TheBeautyPlace.com brings you savings galore.
Purchases of $89 or more qualify for a $10 discount with the promo code "MEM89." This weekend special also includes free shipping on all the orders over $49.
SkinMedica Lytera Skin Brightening Sytem – 3 Piece Set is a brand new product on TheBeautyPlace.com. The products in the system works with your skin to cleanse, brighten and renew it. The system provides full sized items of the SkinMedica Facial Cleanser, SkinMedica Lytera Brightening Complex and SkinMedica Retinol Complex 0.5. Fight excess oil, hyperpigmentation and improve collagen production with this skin care trio.
Obagi's Rosaclear system is also new to TheBeautyPlace.com. Formulated for those with red, sensitive and rosacea-prone skin, the products help soothe the skin, prevent flare ups and reduce the appearance of blotches. For optimum results, use the Obagi Rosaclear Gentle Cleanse, Obagi Rosaclear Hydrating Complexion Corrector and the Obagi Rosaclear Skin Balancing Sun Protector.
A new shipment of Toppik Hair Building Fibers has arrived in time for the weekend sale. Providing instantly fuller looking hair, the hair building fibers provides a safe, surgery-free alternative.
Enjoy the weekend and enjoy the savings with ThBeautyPlace.com Memorial Day weekend sale!
ABOUT MEMORIAL DAY
In 1868, three years after the Civil War ended, Decoration Day was established. Decoration Day was a time for the nation to decorate the graves of the fallen war heroes with flowers. The official birthplace of Memorial Day was declared on 1966 in Waterloo, NY by President Lyndon Johnson. May 30th was the day the ceremonies would take place. In 1971 it was declared a national holiday by the US Congress and set for the last Monday of May.
ABOUT THEBEAUTYPLACE.COM
TheBeautyPlace.com is a leading online company of top brands at affordable prices. From skin care, hair care and everything beauty, TheBeautyPlace.com strives to offer current and prospective clients excellent customer service and fast shipping of their favorite beauty products right to their door.
Follow TheBeautyPlace.com:
On Pinterest: pinterest.com/thebeautyplace/
On Twitter: @TheBeautyPlace
On Instagram: @TheBeautyPlace
On Facebook: facebook.com/pages/TheBeautyPlacecom/125435188536
TheBeautyPlace.com Blog: blog.thebeautyplace.com