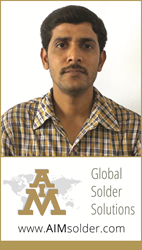 Bangalore, India (PRWEB) May 25, 2014
AIM Solder, a leading global manufacturer of solder assembly materials for the electronics industry, announces the addition of Chetan Shiva to the position of Technical Sales Engineer. Based out of Bangalore, India, Chetan will assist in finding technical solutions for AIM customers within India.
Chetan Shiva has vast technical experience having worked in the electronics industry for more than ten years with companies such as Schneider APC, EMADS and Aristos EMS. Chetan possesses skills in areas such as SMT and THT manufacturing processes, ROHS conversion and new product introduction.
Chetan's proven expertise in these key areas will make him a valuable addition to AIM's growing global technical support team, further strengthening the company's commitment to providing unparalleled technical support to its customers around the world.
About AIM
Headquartered in Montreal, Canada, AIM Solder is a leading global manufacturer of assembly materials for the electronics industry with manufacturing, distribution and support facilities located throughout the world. AIM produces advanced solder products such as solder paste, liquid flux, cored wire, bar solder, epoxies, lead-free and halogen-free solder products, preforms, and specialty alloys such as indium and gold for a broad range of industries. A recipient of many prestigious SMT industry awards, AIM is strongly committed to innovative research and development of product and process improvement as well as providing customers with superior technical support, service and training.
Upcoming Events:
June 18, 2014 - SMTA Upper Midwest– Bloomington, MN USA
Aug 26-28, 2014 - Nepcon South China Stand #A-1H01 – Shenzen, China
Sept 30-Oct 1, 2014 – SMTA International Booth #413 – Chicago, IL USA
For more information about AIM, visit http://www.aimsolder.com.