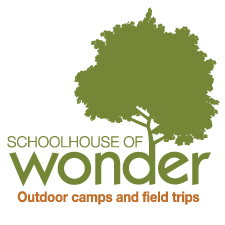 Durham, NC (PRWEB) May 23, 2014
With the end of school fast approaching, parents face tough choices about how to fill summer days with something other than hours at home alone in front of the computer or TV.
For 25 years many Durham families have depended on Schoolhouse of Wonder to help solve this perennial problem. Schoolhouse of Wonder is a place where kids play, learn and grow towards being their best selves. The Schoolhouse of Wonder team of mentors focuses on learning together with children ages 5-17 through outdoor, nature-based camps, field trips, and leadership training.
This year families in Wake County have easy access to Schoolhouse camps through two new locations. Schoolhouse is offering:

Ten weeks of Summer Camp at Umstead State Park, and
Eleven weeks of Track Out Camp this Fall at Harris Lake County Park.
According to the New England Journal of Medicine, "Our children may be the first generation at risk of having a shorter lifespan than their parents." Sedentary lifestyle and physical inactivity contribute to chronic conditions such as childhood obesity, asthma, attention-deficit disorder, and vitamin D deficiency. The Health & Environment Program at the National Environmental Education Foundation notes that "Outdoor activity in the natural environment has taken a back seat to television, video games, the computer, and a demanding schoolwork and extracurricular schedule. Many low-income and minority children are often more cut-off from nature due to the 'built environment' around them: poor housing conditions, high-volume traffic, and a lack of parks and green space. While losing contact with the natural environment, today's youth are missing key opportunities for physical activity, stress reduction, attention restoration, and healthy development."
There is a growing body of evidence that attributes improved health outcomes (physical, mental, psychological, and social) and overall well-being with physical activity and time spent in nature. The Center for Disease Control (CDC) "encourages children to get at least 60 minutes of physical activity most days of the week, preferably daily. Because nature has the potential to improve one's physical, mental, and social health, the CDC advises children to engage in healthy outdoor activities in nature and parks." That's where Schoolhouse of Wonder's Summer and Track out camps can really help.
"Some kids play easily with others, while others walk more cautiously in to new adventures," says Wendy Tonker, Schoolhouse of Wonder Executive Director. "At Schoolhouse of Wonder every kid matters. Each person, young or old, is different. We love that."
Tonker says there is still space available in both the new locations in Raleigh as well the original program headquartered for the last 25 years at West Point on the Eno City Park in Durham and operated in conjunction with Durham Parks and Recreation.
Editor's note: Wendy Tonker is available for phone or in person interview over the holiday weekend.