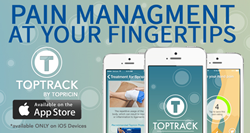 TopTrack helps people better understand, address, and track their pain.
Rhinebeck, NY (PRWEB) June 17, 2014
For twenty years Topical BioMedics, Inc., has established itself as an R&D leader of topical natural cellular biomedicines for relieving pain by enhancing and supporting the body's ability to heal the damage that is causing the pain.
The launch of Topricin's innovative "TopTrack" app supports the company's mission to restore hope and quality of life to the millions of people who suffer in pain. Putting health in an individual's own hands, TopTrack reflects Topricin's dedication to educating doctors, patients, and their families about what pain truly is: a signal from the body that it wants to repair damaged cells or inflamed tissue and needs assistance getting oxygenated, nutrient-rich blood flowing to the pain area in order to facilitate the healing process. This awareness provides a clear, sustainable pathway to safer, more effective treatment options that achieve lasting results.
Unique to the market, TopTrack App offers pain solutions balanced with educational components that doctors, patients, their families, and employers can use and share to unravel the many factors that have contributed to the massive problems created by pain and addiction to pain medications. While only accounting for about 5 percent of the population, the U.S. now consumes 99 percent of the world's Vicodin and 84 percent of its Oxycontin. Unresolved chronic pain has impacted the nation financially, physically, and emotionally while contributing to the escalating epidemic of addiction to opioid pain pills.
TopTrack helps people better understand, address, and track their pain and offers "in-hand" knowledge and treatment options that can be readily applied.
In addition, TopTrack encourages doctor-patient communication, helping both parties determine the best protocols for treatment. Whether it's pain from an injury, inflammation or an everyday chronic pain, TopTrack delivers in-hand healing advice.
TopTrack Highlights:

Enables users to track and manage pain, stiffness, tingling, or burning sensations associated with such conditions as fibromyalgia; neuropathy; back, neck, and shoulder pain; arthritis; carpal tunnel syndrome; Plantar fasciitis; sports and trauma injuries; and other pain issues.
Provides useful guidelines for addressing pain/injuries.
Captures pain patterns and trends for users to share with their doctor, pharmacist, or practitioner.
Sets up reminders to apply healing remedies.
Instructs users on how to tailor Topricin Pain Relief and Healing Cream formulas to their lifestyle and physical needs.
Says Topical BioMedics, Inc. Founder and President Lou Paradise:
"Patient-centered outcomes are attainable and are at the core of our work with doctors and patients on a daily basis. TopTrack uses the power of technology to further educate and empower practitioners and their patients to achieve positive outcomes while promoting a sustainable healthcare model."
The app also plays to our tech-savvy youth—a generation of younger people who do not want to end up with the disabilities or diminished quality of life they observe in their parents or grandparents, and who are therefore embracing preventative methods of health and wellness. This proactive approach helps users avoid the lifestyle factors that lead to premature aging, cellular damage to joint, nerve and muscle tissue, and the body's organs—conditions which are largely preventable. By experiencing the results of using TopTrack, people will discover viable paths that lead to true and lasting well-being."
TopTrack is available free of charge for iPad via the App Store, and will roll out on additional devices in the coming months. http://bit.ly/1rIQD89
How to Track:
1. Download App @ Apple itunes - http://bit.ly/1rIQD89.
2. For previous Topricin users with online accounts, login to the app with your online Topricin account password.
3. New to Topricin? Download and sign in with your email address.
4. Get Rewards!: Track free for 30 days and users will receive a free 4oz Jar of Topricin.
The TopTrack App: A "Virtual Healer," offering in-hand pain relief.
ABOUT TOPICAL BIOMEDICS:
20 years in business and a Certified B Corporation, Topical BioMedics is a research and development leader in topical patented natural biomedicines for pain relief. The company's flagship product, Topricin® Pain Relief and Healing Cream, was introduced in 1994 and is now a leading natural therapeutic brand. A healing technology with cellular biomedicines, Topricin has been awarded a patent for the treatment of pain associated with fibromyalgia and neuropathy, and was listed among the Top 100 Green Products of 2012 by Healthy Holistic Living.
The Topricin family of natural healing products also includes Topricin Foot Therapy Cream, specially formulated to treat painful foot and ankle issues and conditions, and Topricin for Children, which received the Parent Tested Parent Approved Seal of Approval (with 5% of sales donated to pediatric cancer foundations).
Made in the U.S.A., all Topricin products are federally-regulated over-the-counter medicines with no known side effects, no parabens, petroleum, or other harsh chemicals, no grease, and no odor.
Topricin is available in independent pharmacies, natural food and co-op stores nationwide, including Whole Foods, Sprouts, Pharmaca, The Vitamin Shoppe, Fred Meyer, Wegmans, CVS (Foot Care Section), Walgreens (Diabetic Section), and other fine retailers, as well as directly from the company. For more information, visit http://www.topricin.com.
###