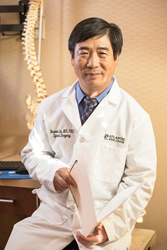 The recovery is fast and more comfortable than spine procedures that preceded these endoscopic advancements.
West Orange, NJ (PRWEB) May 27, 2014
Spine expert Dr. Kaixuan Liu, MD, PhD, President of Atlantic Spine Center in West Orange, New Jersey is counteracting some of the most familiar culprits of back pain in America using the most modern advances in endoscopic spine surgery. More specifically in this discussion Dr. Liu states "A commonly seen condition in the spine practice is a herniated disc or "slipped disc". This is when the inner disc material protrudes through the outer lining wall of the disc. In a healthy vertebral disc, the outer wall is thick and tough. As wear or disc degeneration starts to set in, this wall thins, allowing for the possibility of cracks or tears. "When a disc herniates it places pressure on surrounding structures and nerves, it creates pain," says Dr. Liu.
"For patients whose symptoms persist through conservative treatment, surgery may the best recommendation for relief." says Dr. Liu. "In these cases, patients now have the option of a treatment called, 'endoscopic discectomy,' a minimally invasive procedure that removes the damaged disc material that is causing pain and provides long-lasting relief."
Even more favorably, endoscopic discectomy is an outpatient procedure. This new modern technique is a conservative approach compared to traditional surgery. Alternatively, it uses x-ray imaging and an endoscope to view the damaged disc space. This endoscopic entry allows for a much less invasive procedure. Once the procedure is done, the incision is simply closed with a few stitches at most. The patient is encouraged to walk around and leaves the surgical center the same day.
"Endoscopic discectomy is effective in treating back pain caused by damaged discs," Dr. Liu concludes, "and it removes many of the complications and risks of conventional open surgery. The recovery is also fast and generally more comfortable for patients, with less need for pain medication."