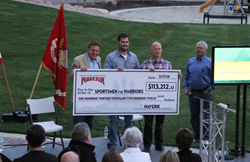 Our customers are true patriots and love the outdoors. It was the perfect fit.
Salt Lake City, Utah (PRWEB) May 23, 2014
Maverik CEO, Tom Welch, and Maverik's executive director of CREATE, Ernie Harker, presented Lone Survivor, Marcus Luttrell, and Don Peay of Sportsmen for Warriors a check for $113,212.32 on Saturday, May 17, 2014 at a benefit dinner in Hobble Creek Canyon. Governor Gary Herbert, Congressman Jason Chaffetz, and basketball star Karl Malone attended the event, along with veterans and approximately 600 other guests.
Sportsmen for Warriors is an organization that helps veterans struggling with post-traumatic stress disorder (PTSD) and their families by promoting healing and family connections through outdoor recreational activities.
"When Tom introduced me to Sportsmen for Warriors president Don Peay, I had a strong feeling we'd be successful," said Harker. "Our customers are true patriots and love the outdoors. It was the perfect fit."
Maverik, Inc.'s owner, Crystal Maggelet, agreed to match all donations raised by Maverik customers. In less than 40 days, customers donated their spare change in collection boxes that totaled $46,917.16. Additionally, Maverik Adventure Club members donated $9,860 in Adventure Club Trail Points.
"Through a Maverik loyalty account, customers earn Trail Points with every gallon of gas and dollar they spend in Maverik stores. Trail Points can be used online to increase the chances to win valuable prizes or exchange them for Maverik merchandise, so it was really fantastic to see our customers contributing their Trail Points to benefit those who sacrifice so much to preserve our freedom," said Harker.
About Maverik, Inc.
Maverik was founded by Reuel Call in Afton Wyoming in 1928 and has grown to over 260 stores in 10 states to become the largest independent fuel marketer in the intermountain west. Maverik currently employs 3,700 adventure guides with aggressive growth plans for further concentration in its current trade area as well as expansion into other markets. As Adventure's First Stop, Maverik lives up to its brand promise to be the first stop en route to adventure.