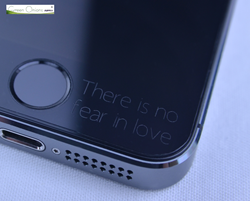 A custom-engraved screen protector is significantly more affordable, convenient, and hassle-free.
San Jose, CA (PRWEB) May 27, 2014
A new screen protector text-engraving service from Green Onions Supply provides elegant and convenient personalization for smartphones. People can add their name or favorite quote to the screen of a device and set it apart from any others.
The phone screen is naturally uncovered and viewed very often compared to engraved cases. It is a great spot for engraving a personal mantra, school motto, favorite verse of Scripture, or other bits of inspiration and notes of personality.
The phone screen is also also prime real estate for advertising your product or company. This is great for companies looking for promotional or branded items, or for simpler personal advertisement of your company or organization.
Unfortunately, engraving a device's glass directly is prohibitively expensive and actually lowers the phone's resale value at the same time due to the permanent modification. Users of the service often lose use of the phone for a few days, or must drive to the engraving location, as the process requires the phone be physically present to be engraved. Even then, if a mistake is made or the owner just gets sick of the engraving, the glass must be replaced to remove the previous engraving, further increase the obstacles to this personalization.
A custom-engraved screen protector is significantly more affordable, convenient, and hassle-free. Despite the appearance of engraved glass once installed, the screen is not etched directly, so no value is lost and the engraving can be swapped out easily whenever desired. The protector even reduces wear and tear on the original phone finish to maintain resale value. People can also buy engravings for others as a gift, which maintains surprise, as the phone does not need to be shipped off for an engraving.
Additionally, the Oleophobic protectors used as the engraving medium are the best films for matching the natural look, feel, and functionality of an uncovered screen. With these world class screen protectors as a foundation, the screen is just as silky-smooth, responsive, oil-resistant, and distortion-free as a brand-new screen.
Another great advantage of the Oleophobic base is that it allows for further color personalization. The fine, hairline-engraved text can be left unmodified, leaving them subtle and elegant, or highlighted via a DIY paint-job. The Oleophobic coating repels oil-based paints or marker ink around the etching, but the engraving is deep enough to allow the paint to dry, which makes painting in the engraving quick and easy to clean up. A painted engraving is great for lighter phones, where the engraving might not be as easy to read, and can make the text stand out beautifully.
This engraving service is now available on popular smartphone models.
Additional information and engraving limits are available here:
http://www.greenonionssupply.com/support/installation/laser-engraving-demo.html.
For more information on these or other products and services, please visit Green Onions at http://www.greenonionssupply.com.
Green Onions Supply has been dedicated to the screen protector business for over 13 years, and in the electronics accessory business for over 20 years. Their experience and dedication to customer's needs make Green Onions the go-to choice for quality protective accessories for your tablet, laptop, or smartphone.
Resources:
Green Onions Supply website: http://www.greenonionssupply.com/
Twitter: @greenonionssupp
Facebook:https://www.facebook.com/GreenOnionsSupply
Google+: https://plus.google.com/+Greenonionssupply/posts
Youtube: https://www.youtube.com/user/GreenOnionsSupply
Engraved Screen Protector service: http://www.greenonionssupply.com/support/installation/laser-engraving-demo.html