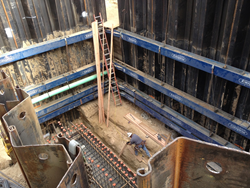 Modesto, CA (PRWEB) June 05, 2014
Construction to the Emerald Lift Station, a three-story pumping facility in Modesto, CA, is nearly finished after damage from severe corrosion compromised the safety of workers and the operation of the station. The two-phase project required shoring two separate excavations that were affected by extreme site restrictions from every side of the dig. Mabey Inc., an equipment rental company specializing in engineered solutions and site safety, worked with Aztec Consultants to devise an innovative plan that would safely shore the excavations as workers replaced portions of the lift station and installed new equipment. Modesto and OSHA officials approved the plans with ongoing site visits.
For phase one of the project, Mabey engineers and site technicians concluded that sheet and frame was the safest, most flexible system to shore the 37′L x 28′W x 30′D pit for the new wet well. Phase two of the shoring included a very tight excavation area of 16′W x 14′L x 20′D with a 36" concrete sewer pipe running through the bottom of the pit. Mabey supplied a three-level slide rail system to safely shore the sides of the excavation and also clear the pipe. The confined space outside the pit forced Aztec's excavator to be positioned halfway between the sidewalk and street for enough clearance to turn and lift the bucket over a fence to unload dirt. Mabey and Aztec made it work!
Emerald Lift Station's pumping and electrical equipment are to be replaced as well as a stairway and the pump's access floor grates. The new underground tank will hold wastewater until it cycles upward to the pump station and is then pushed to the city's treatment plant. The project began in August of 2013 and will be completed late this summer.
For more photos and a detailed description of this job, see http://www.mabey.com/modesto.
###
For over 25 years, Mabey Inc. has been a leader in engineered solutions for the construction rental industry, including structural and excavation shoring, bridging, and temporary roadways. Headquartered near Baltimore, MD, Mabey Inc. has 20 depot locations across the country. In addition to construction equipment, Mabey Inc. provides professional engineering services, on-site technical advisors and hands-on safety training.