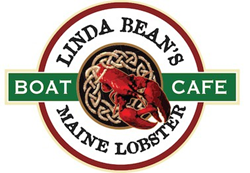 Bean Maine Lobster is all about finding new market locations for Maine fishing families. We work to keep them on the water, giving them our full energy and support.
South Portland, ME (PRWEB) May 27, 2014
Linda Bean's Maine Lobster has partnered with General Growth Properties, Inc., owner of The Maine Mall, to be the featured Maine restaurant at the 1.0 million square foot mall's center court area. The official grand opening will be Saturday, May 31.
A looming "mall docked" lobster boat is already attracting major attention. A visual statement of Bean's trap-­‐to-­‐table involvement in the Maine lobster industry since 2007, Mall Manager Craig Gorris says the boat symbolizes Bean's and GGP's unyielding commitment to the fishing families of Maine whose efforts have been under pressure of economic survival. Gorris believes the boat transforms & activates the center court area into a unique dining destination that will create a customer experience unlike anything else in the market.
Unveiled this week after weeks of secrecy, the boat's design by Bean's Corporate Executive Chef Andrew Omo of Bath will skylight a cooking crew inside to make Bean's most popular quick meals, including her now famous lobster roll recipe that's reached an estimated volume of 2 million served. The roll and other grilled sandwiches will be made on a panini and served with chowder, Maine blueberry pie, Maine soft drinks, Maine wines and handcrafted Maine beers.
Bean, a sponsor of the Maine Red Claws basketball farm team to the Boston Celtics, has paired up with Gritty's popular Maine brewery to bring Red Claws Ale to the Mall lobster boat location for shoppers to relax and refresh. Maine Cellardoor wines will be featured here, and live lobsters can be chosen right from the tank to be cooked and eaten on "the docks" that surround the lobster boat. There's also a Lobster Touch Tank for Kids™ by Maine Ecological Habitats, Biddeford, a Linda Bean location partner.
Maine Governor Paul LePage will be on hand at 11:00 AM Saturday, along with Senator Susan Collins, South Portland City Councilors, and GGP mall representatives to cut the opening ribbon. GGP operates over 120 regional malls across America. This is the first with Bean and Maine lobster.
"We are all about the traveling and shopping public," Bean states. "The Maine Mall is a perfect crossroads and we are thrilled to be providing a very different new experience for mall shoppers. There's nothing like this one anywhere else in the world. "
Veronika Carlson, President of Bean's Hospitality Division that includes restaurants, vacation rentals, and Maine weddings, will be on hand for the event, together with Bean's lobster division president John Petersdorf, Chef Omo and Chief Operating Officer Matt Morrison. Procurement this year by Petersdorf and Bean directly off Maine lobster boats is expected to be 9million pounds, up 3 million over last year.
Says Bean, CEO of both divisions, "Bean Maine Lobster is all about finding new market locations for Maine fishing families. We work to keep them on the water, giving them our full energy and support."
About Linda Bean's Maine Lobster
Bean's decision to add her name to brand and promote lobsters from Maine's fishermen has grown in her unique hands-­‐on style and messaging from a 400,000 pound start-­‐up 7 years ago to an anticipated 9 million pounds this year.
While buying off only Maine boats, creating recipes and restaurants, and leading the way on restoring Maine processing jobs to the state, Bean drove the initiative on a marketing dynamic that gained international MSC certification of sustainability for the entire Maine coast trap lobster fishery.
Since 2007 Linda Bean has put her brand name on three of Maine' s natural resource products: lobster, maple syrup, and blueberries. She has recognized that 21st century markets prefer sustainable harvest practices, traceability to the source, and a popular affordability. These focused goals have driven new job growth in Maine accordingly, and her enterprise is in motion on both the coast and the western woodlands of Maine. Currently her product line includes overnight shipping of live native lobster; fresh and frozen lobster and crabmeat from her three production plants in Rockland; and a new 2014 line of bottled syrup and sauces from her Maine maple sugarbush in Weld and Maine wild blueberries. Linda Bean's Perfect Maine wild and natural products are being positioned for green and sustainable USA markets nationwide, including her own and other restaurants, supermarkets, club stores, sports arenas, malls and airports. For website information regarding Linda Bean's Maine lobster you may wish to go to http://www.lindabeansmainelobster.com.
For more information, or to schedule an interview, please contact Matt Morrison,
Matt(at)LindaBeansPerfectMaine(dot)com, 207-­‐691-­‐8747