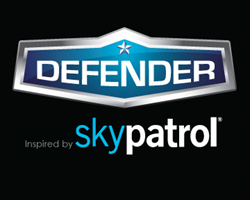 "Our award winning solution, Defender 2.0, minimizes losses and optimizes loan management."
(PRWEB) May 23, 2014
Skypatrol, the global leader in GPS Tracking Solutions, is pleased to announce it will be exhibiting its line of integrated tracking solutions for the non-prime vehicle finance industry at the 18th Annual Non-Prime Auto Financing Conference (NAF) - the only trade association exclusively serving the non-prime auto financing industry - being held in the Omni Fort Worth Hotel in Fort Worth Texas.
From May 28th through the 30th the annual conference will attract all the major players in the non-prime auto finance sector, providing an opportunity for education and networking, while giving exhibitors a great forum to showcase their products, technologies and services. Skypatrol will be presenting the capabilities and benefits of Defender 2.0 its software platform that has been designed from the ground up for vehicle finance companies. Defender 2.0 is a reliable tool used to protect collateral and thereby protects a lenders investment.
"Our award winning solution, Defender 2.0, minimizes losses and optimizes loan management. Our customers are able to maintain tight control of their portfolio with features like scheduled payment reminders and our exclusive one click ´Repo Mode´ option," said Mark Peters, Senior Vice President of Sales. "The results speak for themselves; customers that implement our entire Defender platform have experienced and can expect improved portfolio performance as well as real drops in their default rates."
Early this year, Skypatrol added the TT9400C, a CDMA GPS device that is designed to take advantage of the recently announced partnership between Verizon and Skypatrol. The TT9400C is designed specifically to work on the Verizon Network, improving coverage, speed, and ultimately results.
About Skypatrol LLC
Skypatrol builds innovative software tools uniquely combined with its proprietary GPS hardware and firmware to help businesses monitor, protect and optimize mobile assets in an increasingly machine-to-machine world. Skypatrol serves many markets including vehicle finance, fleet management, mobile asset tracking, automobile dealerships, outdoor sports and motor sports. Skypatrol is a global leader in integrated GPS tracking solutions on a wide variety of platforms including GSM and CDMA cellular networks and dual mode satellite devices, serving customers in the Americas, Europe and Asia. For more information, visit http://www.skypatrol.com.