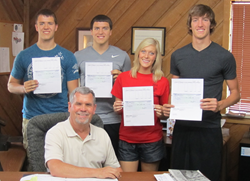 We are very thankful for the generosity of Grinnell Mutual and this scholarship program. ~ Mike Dobrinski
(PRWEB) May 23, 2014
When four Road to Success Scholarship applications came through her inbox at 5:59, 6:00, 6:01, and 6:02 p.m. from the same email address, Barb Baker, director of Advertising and Community Relations, thought it was a mistake. As she opened the emails, however, she realized the name was different on each application. As luck would have it, the Dobrinski quadruplets were later named among 63 graduating seniors to receive Grinnell Mutual Road to Success Scholarships this spring.
"Through the Road to Success Scholarship Program, Grinnell Mutual partners with our independent agency force to award $1,000 scholarships to college-bound seniors throughout our 11-state writing territory. In the last nine years, we've awarded more than $450,000 in scholarships," said Baker.
Grinnell Mutual received over 1,100 applications this year. To qualify, graduating seniors had to demonstrate good grades in the classroom with an average grade point average of 3.0 or above and be traffic accident and violation free throughout high school. Recipients were then randomly selected from a pool of qualified applicants by state, according to the amount of personal auto policy business that Grinnell Mutual writes in Illinois, Iowa, Minnesota, Missouri, Nebraska, North Dakota, Ohio, Oklahoma, South Dakota, and Wisconsin.
"Two of the Dobrinski quadruplets were randomly selected as our Oklahoma recipients," said Baker. "Between the odds of drawing two of the four kids and the cost of sending four children to college at once, we broke from tradition to award a scholarship to each of the siblings and redraw our Oklahoma recipients."
"Our family left no stone unturned in searching for scholarships and saving for college tuition," said Mike Dobrinski, the quadruplets' dad. "We are very thankful for the generosity of Grinnell Mutual and this scholarship program."
For Shelby, Michael, Scott, and Jamie Dobrinski, learning to be safe drivers began on their Oklahoma farm long before they were old enough for a driver's permit or the local drivers' education course.
"All of the kids started out on ATVs and other toys like that on the farm," said Mike. "It was a little scary when they were small but they learned respect and how to be careful. As they got older, they helped me feed the cows and we'd put the truck in low gear. I'd walk beside the truck as they drove or sit in the cab with them. That's how we taught them to drive. Wide open fields are a relatively safe place to learn."
The Dobrinskis graduate on May 23 from Okeene High School. They will enroll this fall at Oklahoma State University in Stillwater. Shelby is planning to major in media and strategic communications, Michael in graphic design, Scott in engineering, and Jamie in health management/physical therapy.
A complete list of this year's scholarship recipients is available on grinnellmutual.com.
About Grinnell Mutual
Grinnell Mutual Reinsurance Company, in business since 1909, provides reinsurance for farm mutual insurance companies and property and casualty insurance products through more than 1,600 independent agents in 12 Midwestern states. Grinnell Mutual is the 123rd largest property-casualty insurance company in the United States and the largest primary reinsurer of farm mutual companies in North America.