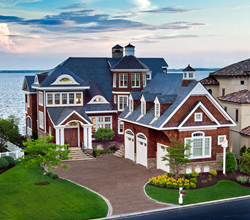 Columbia, Md (PRWEB) May 27, 2014
The Creig Northrop Team of Long & Foster Real Estate represents two properties selected as finalists for HGTV FrontDoor.com's "Doory Awards," which recognize unique homes on the market. The Northrop Team's finalists are a manor home in Ellicott City, Md., and a coastal-style home in Ocean City, Md.
"The Doory Awards" debuted on HGTV's FrontDoor.com in 2012 and grew from the organization's desire to celebrate notable homes for sale, despite the perception of a stale market. Editors with HGTV and Zillow, a real estate website, chose the finalists this year.
The Northrop Team's manor home finalist is listed as a "Prestigious Stone Manor in Ellicott City, Md." in the historical category. The main residence on the 54-acre property was built in 1936 by the owners of Pimlico Race Course. The estate includes more than 8,000 square feet of living space in the manor home as well as an 1,800-square-foot guest cottage, a caretaker cottage, a 10-stall horse barn, tennis court, in-ground pool, pond, outbuildings, grazing pastures and a trout stream.
The Northrop Team's coastal-style home finalist is listed as a "Bayfront Cape Cod in Ocean City, Maryland" in the waterfront category. The 10,000-square-foot, seven-bedroom home received the 2010 National Association of Home Builders Gold Award. The home is equipped with an audio-video system, a Lutron lighting system, nine-zone low-cost geothermal heating, gourmet kitchen with professional Viking appliances, wood-burning brick oven, four masonry wood-burning fireplaces and a gas fireplace in the master bedroom.
"These prestigious homes are among some of the most spectacular properties in all of Maryland," said Creig Northrop, president of the Northrop Team. "We are proud they were chosen as 'Doory Award' finalists."
To learn more or vote for the homes, visit http://www.frontdoor.com/dooryawards.