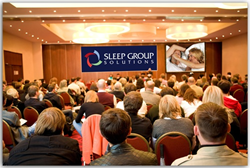 There has been a tremendous amount of awareness put on this disorder, and for a good reason…It kills people.
Ft. Lauderdale, FL (PRWEB) May 23, 2014
About half of Americans who suffer from sleep apnea are overweight, according to the National Institutes of Health. Aging is also a contributing factor. Untreated, sleep apnea can lead to serious health problems, including heart disease. USA Today reported nearly nine of 10 veterans receiving compensation are considered 50 percent disabled by the condition, in which breathing ceases during sleep. Dental sleep medicine education company, Sleep Group Solutions, helps to train dentists in treating this deadly disorder through two-day CE lectures. Upcoming lectures include Buffalo, Charleston and Las Vegas.
Veterans' claims for sleep apnea — a common, treatable ailment often associated with obesity and aging — have spiked nearly 150 percent since 2009, driving compensation for the disorder likely over $1 billion per year, according to government data and interviews. Veterans Affairs officials attribute the surge in claims — more than 94 percent of them from veterans of Gulf War I or the Afghanistan and Iraq wars — to greater awareness of the condition. With that awareness comes treatment and appropriate care, they say. Dental sleep medicine expert, and lecturer, Dr. Barry Freydberg says, "There has been a tremendous amount of awareness put on this disorder, and for a good reason…It kills people." Dr. Freydberg continues, "But the good news here, is that many cases are treatable."
A change in federal law in 2004, phased in over 10 years and fully implemented in January, also allows veterans who qualify for retirement pay to receive their pensions and disability compensation. Prior to the change in law, the disability compensation had offset pension payments. To receive both payments, a veteran must be considered at least 50 percent disabled. During the Sleep Group Solutions two-day lecture, the instructor teaches an entire dental sleep medicine protocol, including; home sleep testing, billing medical insurance, working with physicians, and groundbreaking technology used to analyze the airway.
"It's all about screening and being able to identify if your patient is at risk," says Dr. Barry Freydberg, "we make it a point to screen each patient that walks through the door." For dentists interested in treating patients for snoring and sleep apnea, upcoming lectures include:
Nashville
Chicago
Hartford
Providence
Buffalo
Charleston
Las Vegas
(full calendar)
About Dr. Barry Freydberg
Dr. Barry Freydberg, a 1968 graduate of the University Of Illinois College Of Dentistry is a full-time practicing dentist. He was named "Alumni of the Year" in 2004.He is a Fellow of the Academy of General Dentistry, a Fellow of the International College of Dentists, a Fellow of the American College of Dentists and a Fellow of the International Academy for Dental-Facial Esthetics. He is a leading speaker on conservative "Prepless" esthetic dentistry and is considered a pioneer in raising dentists' awareness of the ever-growing link between high technology and practice and clinical management. And, as digital technology has matured, he also focuses on "Techsthetics", the link between technology and diagnosing, marketing and providing better esthetic dentistry.
About Sleep Group Solution
Sleep Group Solutions is an airway diagnostic technology company serving the needs of physicians and dentists interested in screening, diagnosing and treating sleep apnea and other upper airway disorders. Sleep Group Solutions offers the latest screening and diagnostic equipment solutions for patients with allergy, sinus congestion, rhinitis, deviated septum, nasal polyps, snoring and sleep apnea. SGS offers the most comprehensive dental sleep medicine CE seminars in the industry focused on teaching dentists the protocols needed to make the treatment of snoring and sleep apnea part of their practice. Sleep Group Solutions offers sleep study interpretation, oral appliances (Norad Boil & Bite, Respire), online directory 1800SleepLab.com and online marketing for CPAP Intolerant patients. SGS is the manufacturer of the Eccovision Systems Rhinometer and Pharyngometer, and offers Home Sleep Testing devices from Watermark Medical.