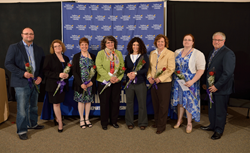 We have challenged ourselves to further our knowledge of the science, and have explored, reshaped and reframed our perceptions of the art of nursing.
(PRWEB) May 27, 2014
Southern New Hampshire University's Department of Nursing celebrated its first class of baccalaureate nursing graduates at the inaugural Nursing Pinning Ceremony on Friday, May 9.
Surrounded by family and friends, each nursing student received an SNHU nurse's pin, signifying their completion of the program and dedication to the profession. The students graduated during the commencement ceremonies Saturday, May 10.
"On behalf of President LeBlanc, the Board of Trustees and the entire community here at Southern New Hampshire University, you represent our inaugural cohort of nurses. I want to say my hardiest congratulations to all of you," said Dr. Patricia Lynott, provost and senior vice president of Academic Affairs.
"To the nurse educators who made this happen, I cannot tell you how grateful we are that you've gotten this program up and running in a short time," said Lynott. "And it's going to be the best nursing program in the state of New Hampshire."
The SNHU nurse's pin is inscribed with the school and program names, as well as three important words: service, scholarship and practice. These words symbolize a nurse's charge to serve, participate in scholarship and uphold the standards of practice.
SNHU nursing graduate Tammey McCloud, BSN, echoed these sentiments in her Student Address.
"With the help of our peers and faculty, we have challenged ourselves to further our knowledge of the science, and have explored, reshaped and reframed our perceptions of the art of nursing and solemn responsibility of caring for our community," said McCloud. "On this day, we can again rededicate ourselves to our vocation with a fresh perspective and a renewed sense of purpose."
The mission of the SNHU Department of Nursing is to be a leader in providing quality undergraduate and graduate nursing education with distinction in scholarship, service and practice. Graduates are prepared to apply theory-guided, culturally competent, evidence-based professional nursing practices to improve the well-being of diverse populations within complex healthcare systems.
For more information about the SNHU nursing program, visit SNHU Online Nursing.
###
About SNHU
Southern New Hampshire University is a nonprofit, regionally accredited university with an 80-year history of educating successful professionals. SNHU has a total enrollment of over 35,000 students in more than 200 undergraduate and graduate degree and certificate programs, available online, at our main campus in Manchester, NH, and at our regional centers in New Hampshire and Maine. Southern New Hampshire University has been recognized with "Best of Business" Awards for best online degree programs and was ranked 12th on Fast Company's 2012 list of The World's 50 Most Innovative Companies. SNHU was the only university to earn this distinction.