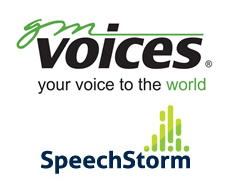 GM Voices' professional recordings will ensure that our solutions maintain their standard of excellence, no matter where and with what customer or audience we engage.
ALPHARETTA, Ga. (PRWEB) May 27, 2014
GM Voices, the world's largest producer of professionally-recorded voice prompts for automated technologies, today announced its partnership with SpeechStorm, a leader in voice and mobile customer experience applications based in Belfast, Northern Ireland. The companies will work together to develop locally-authentic voice persona recordings in multiple languages as SpeechStorm introduces its innovative self-service Interactive Voice Response (IVR) and contact center solutions to new international markets.
Corresponding with strategic growth and customer opportunities, GM Voices and SpeechStorm will first develop language solutions in Spanish and French. Additional languages and dialects are being pre-planned on SpeechStorm's solution roadmap; one heavily focused on internationalization and enhanced customer service across a host of IVR, speech and mobile applications.
"SpeechStorm has been on our radar for quite some time as a voice self-service mover and shaker," said Marcus Graham, CEO of GM Voices. "They're setting a new standard for IVR personalization, and adding GM Voices' comprehensive translation and localization, voice recording and persona development expertise to the equation is a no-brainer as they expand their international footprint."
GM Voices first met and collaborated with SpeechStorm at Genesys' G-Force Barcelona event in 2009, where GM Voices exhibited as a Genesys partner vendor and SpeechStorm attended as a provider of pre-built and configurable applications for the Genesys Voice Platform (GVP). At subsequent G-Force conferences in the US and Europe, GM Voices helped SpeechStorm demonstrate unique voice self-service functionality through creative audio scenarios called VisionClips.
SpeechStorm will recommend GM Voices as its partner of choice to customers who require recorded prompts for their voice applications to ensure the best possible customer experience for their end users. Such recorded prompts include concatenated prompts, where multiple pre-recorded elements are combined, automatically, to read back dynamic information, such as account numbers, balance amounts, dates and times, providing a more natural-sounding customer experience.
SpeechStorm CEO, Oliver Lennon, said, "Language, voice talent and tone are essential parts of the customer experience and getting them right is even more important with personalized solutions. This partnership will add great value for our customers and the timing could not be better as we expand rapidly into new global markets. Using GM Voices' professional recordings will ensure that our solutions maintain their standard of excellence, no matter where and with what customer or audience we engage. The world really is our oyster through this tie-up!"
About GM Voices
Since 1985, GM Voices, Inc. has emerged as the global leader in professionally‐recorded voice, language localization, persona development and Voice Branding solutions for Fortune 1000 corporations worldwide. Dozens of voice actors record in their studios each week, providing clients a consistent voice for any application. More than 100 languages and dialects are offered. GM Voices invented the term and concept of Voice Branding, a single‐voice customer experience consistent with a company's brand image. For more information, visit http://www.gmvoices.com.
About SpeechStorm
SpeechStorm® helps organizations of all sizes make everyday tasks easier for their customers. We provide pre-built IVR, speech self-service and mobile apps that reduce waiting times for customers and reduce call handling times in the contact centre. Our solutions are quick to implement and easy to manage, putting the business in control of the customer experience. Learn more at http://www.speechstorm.com.
Contact
Matt Strach
Director of Marketing
770.752.4500 ext. 4525
matt(at)gmvoices(dot)com
For SpeechStorm media and analyst enquiries, please contact:
Tim Guest,
Managing Partner,
ATROPOS Communications
Tel: +44 (0)7956 257069
E: tim.guest(at)atropospr(dot)com