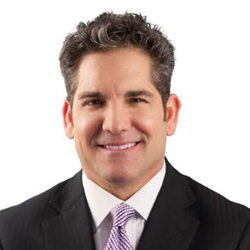 This vacation seminar will be a really unique way for people to learn so they can earn and enjoy a beautiful resort property. ~Grant Cardone
Miami Beach, Florida (PRWEB) May 25, 2014
New York Times Bestseller and self-made multimillionaire motivator, Grant Cardone and All Inclusive Collection have partnered to offer hotel guests a unique vacation seminar package at the Hard Rock Hotel Riviera Maya Mexico June 22-27, 2014. Cardone urges people to "Work Hard and Play Hard" and join him for what is bound to be a memorable, game-changing experience. The author who boasts over 285,000 Twitter followers and over 502,000 Facebook fans, is bringing his popular 10X Seminar, based on his book "The 10X Rule," to this beautiful all-new, all-inclusive resort. The generous package includes a luxurious 5 night all-inclusive getaway at the Hard Rock Hotel Riviera Maya plus access to 4 daily seminars to see Grant speak live. Guests will not only come away relaxed and rejuvenated from a great vacation, they'll get the mind shift necessary to take massive action towards creating greatness in all areas of their lives. All details and booking information can be found at http://www.10xseminar.com.
Cardone is a highly respected, internationally recognized business and sales expert, whose passion is to teach others how to sell themselves, their products and services, regardless of economic climate. Additionally, his company consults Fortune 500 companies on how to increase sales revenue by identifying overlooked opportunities. He'll be enjoying the resort along with his lovely wife Elena and their two young daughters and encourages people to make this a family event.
He explained, "when I was approached to do a '10X Work Hard Play Hard Seminar' for vacationers visiting the all-new Hard Rock Hotel Riviera Maya, I thought, wow what a great way to help people go for greatness in all areas of their lives. Usually seminars are associated with business and not pleasure and this is a smart combination of the two. Going 10X is about taking massive action, getting creative and doing something different to achieve success which is exactly what this partnership and package offering is all about. I look forward to experiencing the resort with my wife and two young daughters. I get to help a lot of people and have a memorable experience with my family. It's going to be great."
The seminar schedule is as follows. Admission is part of this all-inclusive package.
June 23: 10x Your Finances – 9:00 a.m. – 10:00 a.m.
June 24: 10x Your Business – 9:00 a.m. – 10:00 a.m..
June 25: 10x Your Social Media – 9:00 a.m. – 10:00 a.m.
June 26: 10x Your Life – 9:00 a.m. – 10:00 a.m.
The 10X Rule is a success strategy that calls for 10 times the level of action perceived necessary to accomplish any task or goal. It encourages people to set goals so huge, so challenging, that their problems pale in comparison. Grant's belief is that when massive goals are met with massive action, people remain engaged and motivated. Guests who attend Cardone's 10X Seminar make major changes to their lives as they start to easily identify what goals require massive effort and what is simply a distraction. Bringing the 10X Seminar to a resort location is an exciting first for Cardone Enterprises. All Inclusive Collection and Hard Rock Riviera anticipate a positive and guest experience.
"We are excited to be hosting a series of motivational seminars by Grant Cardone at the all-new Hard Rock Hotel Riviera Maya. We are big fans of the dynamic and entertaining way he delivers his message with a tough, rock star approach that gets people fired up about success. The partnership makes perfect sense for our brand and guests," says All Inclusive Collection Vice President of Marketing, Frank Maduro.
Located just off the azure waters of the Caribbean Sea, Hard Rock Hotel Riviera Maya offers the ultimate vacation for guests of all ages with both the adults-only and family friendly resort experiences. With a combined 1,264 ultra-posh and lavishly appointed guest rooms boasting balcony, terrace views or new, expansive sky terrace options with picturesque views, hydro tubs in each room, world-class shopping, endless style and the largest celebrity-branded Rock Star Suite in the Hard Rock International collection designed by legendary singer Bret Michaels, Hard Rock Hotel Riviera Maya is nothing short of the ultimate crowd-pleaser. Complete with expansive outdoor pools and private beach, this all-inclusive escape offers nine world-class restaurants, eight bars and lounges, in addition to 88,915 square feet of state-of-the-art meeting and event space ideal for elegant banquets, themed parties, weddings, concerts and more. Hard Rock Hotel Riviera Maya offers several youth-friendly components including HIT Entertainment's Little Big Club, Teens Lounge & Club, and snorkeling and kayaking for an unparalleled adventure. In addition, the "resort within the resort," adults-only section Heaven, includes the Hard Rock signature Rock Spa® with 75 treatment rooms, four restaurants and three sophisticated bars and lounges, including a premium service nightclub.
About All Inclusive Collection
The All Inclusive Collection spearheads sales and marketing efforts for premier, luxury resort properties throughout Mexico and the Caribbean, including Hard Rock Hotel & Casino Punta Cana in the Dominican Republic (the world's first all inclusive Hard Rock Hotel) and three Mexico properties including Hard Rock Hotel Cancun, Hard Rock Hotel Vallarta and Hard Rock Hotel Riviera Maya. These four properties are owned and operated by RCD Resorts under licensing agreements from Hard Rock International. RCD Resorts exclusively contracts the All Inclusive Collection for the sales and marketing of its all-inclusive Hard Rock Hotels. Led by Chief Operating Officer Rafael Chapur, the All Inclusive Collection offers a one-of-a-kind, "all day, all night, all-inclusive" vacation experience, and has expanded its portfolio into Mexico and the Caribbean with new luxury properties that continue to shift the sands of all-inclusive. For additional information, visit http://www.hrhallinclusive.com.
About Hard Rock International
With a total of 180 venues in 56 countries, including 140 cafes, 19 hotels and 9 casinos, Hard Rock International (HRI) is one of the most globally recognized companies. Beginning with an Eric Clapton guitar, Hard Rock owns the world's greatest collection of music memorabilia, which is displayed at its locations around the globe. Hard Rock is also known for its collectible fashion and music-related merchandise, Hard Rock Live performance venues and an award-winning website. HRI owns the global trademark for all Hard Rock brands. The company owns, operates and franchises Cafes in iconic cities including London, New York, San Francisco, Sydney and Dubai. HRI also owns, licenses and/or manages hotel/casino properties worldwide. Destinations include the company's two most successful Hotel and Casino properties in Tampa and Hollywood, Fl., both owned and operated by HRI parent company The Seminole Tribe of Florida, as well as other exciting locations including Bali, Biloxi, Chicago, Cancun, Las Vegas, Palm Springs, San Diego and Singapore. Upcoming new Hard Rock Cafe locations include Seoul, Vienna, Almaty, Anchorage and Siem Reap. New Hard Rock Hotel projects include Daytona Beach, Aruba, Abu Dhabi, Ibiza and Shenzhen and Haikou in China. For more information on Hard Rock International, visit http://www.hardrock.com.
About Grant Cardone:
Grant Cardone is a self-made, highly successful entrepreneur with multiple businesses. Cardone Training Technologies and Cardone Group, his training arms founded on Cardone's trademarked Information Assisted Selling (TM) technology, offer sales training facility and two web-based sales training platforms, Cardone on Demand and Cardone University. Cardone Real Estate Acquisitions focuses on multi-family real estate investing, with a portfolio valued at an estimated $350 million dollars. Follow Grant for free sales tips and strategies, or visit http://www.grantcardone.com