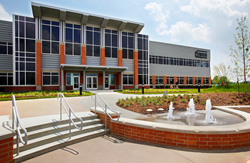 The entrepreneurs we help are changing the world and everyone benefits when they succeed.
Athens, Ohio (PRWEB) May 23, 2014
The National Business Incubation Association named the Purdue Technology Centers and The Purdue Foundry as the 2014 Incubator Network of the Year during NBIA's International Conference on Business Incubation in New Orleans.
The mission of the Purdue Technology Centers is to spur economic growth across Indiana by licensing new technologies, growing companies and new industries, and creating high tech Hoosier employment opportunities. They strive to do this, in concert with their communities, by being the pre-eminent location for technology companies and start-ups in Indiana and the Midwest. They identifying marketable intellectual capital, and providing unparalleled space, services and amenities in an atmosphere of early-stage company collegiality. A model support system, The Foundry provides all manner of legal and business support to start ups, including visa assistance, business plan and SBIR/STTR grant support, and funds sourcing and mentoring though their legal staff and entrepreneurs in residence. Included in the system is the Anvil, an incubator devoted entirely to student owned business.
At present the Purdue Research Park network is home to over 250 companies that take great advantage of Indiana's business friendly environment and Purdue's prolific supply of intellectual property and commercially minded faculty, staff and students.
"The entrepreneurs we help are changing the world and everyone benefits when they succeed," said Dan Hasler, President and Chief Entrepreneurial Officer of the Purdue Research Foundation. "This award is a reflection of not only the prolific Purdue invention pipeline, but the dedication and commitment our staff has to helping our client companies, faculty staff and students thrive."
"Our annual awards recognize the leaders in the incubation industry," said Jasper Welch, President and CEO of the NBIA. "Purdue's incubation network and programs are impressive in their scope and record of success. It is truly an example of how to best catalyze the process of starting and growing high-tech companies by providing entrepreneurs with the expertise, networks and tools they need to make their ventures successful."
For more information on Purdue opportunities and support structure, go to http://www.innovation-entrepreneurship-purdue.com.
NBIA estimates that in 2011 alone, North American incubators assisted about 49,000 start-up companies that provided full-time employment for nearly 200,000 workers and generated annual revenue of almost $15 billion. Approximately 7,000 business incubators operate worldwide.
The National Business Incubation Association is the world's leading organization advancing business incubation and entrepreneurship. Each year, the NBIA Incubation Awards honor the business incubation programs, graduates and client companies that exemplify the best of the industry. For more information, please visit the National Business Incubation Association website http://www.nbia.org or contact Jasper Welch, NBIA President and CEO at (970) 749-7020, jwelch(at)nbia(dot)org.
Contact: Cynthia Sequin
Director, Marketing and Comm.
Purdue Research Foundation
(765) 413-6031
casequin(at)prf(dot)org
###