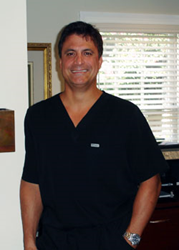 Raleigh, NC (PRWEB) May 23, 2014
Dr. Jason Cataldo of Periodontics and Dental Implants of North Carolina brings residents a revolutionary option for receiving effective gum disease treatment in Raleigh, NC with minimal discomfort and in less time than ever before. The Laser Assisted New Attachment Procedure (LANAP®) leverages laser technology to provide cut and suture free treatment for people who suffer with swelling, tender, and bleeding gums due to periodontal infection.
LANAP® was the first ever laser gum surgery method to have received clearance by the U.S. Food and Drug Administration and Dr. Cataldo is among the one percent of dentists in the country to implement this technique. Dr. Cataldo uses the PerioLase® MVP-7™ laser to locate infected gum tissue, which he then eradicates without affecting or removing any healthy gum tissue. Traditional options for gum disease treatment in Raleigh, NC often result in loss of some non-infected tissue for patients, as well. Loss of healthy tissue often occurring with traditional gum surgery methods typically results in gum recession, exposing the root surfaces and increasing the risk of further oral complications..
As with any disease, taking action early can make treatment easier. Some of the early symptoms of gum disease are very visible and include redness, swelling, and tenderness in the gums. Bleeding gums, especially when flossing or brushing, can also be evident. Many people hesitate to seek treatment for gum disease because of concerns about the painful process or recovery period. LANAP® gum disease treatment in Raleigh, NC addresses those fears head on and offers patients a way to restore their oral health without cuts, stitches or a long, painful recovery time. In fact, it is not uncommon for patients to receive LANAP® treatment and then immediately resume their daily activities. There tends to be minimal bleeding or discomfort both during and after the procedure.
If you have noticed signs of periodontal infection such as bleeding gums, you are encouraged to visit Dr. Cataldo's website or to schedule a consultation with him. The staff at Periodontics and Dental Implants of North Carolina is highly trained and committed to delivering the latest in dental treatments with minimal pain for patients.
About the Doctor
Periodontics and Dental Implants of North Carolina is a periodontal practice offering personalized dental care for Durham, NC gum disease patients. Dr. Jason Cataldo attended college at the University of Buffalo School of Dental Medicine, completed a general practice residency at Michael Reese Hospital in Chicago, IL, and completed his periodontal training at Case Western Reserve University in Cleveland, OH. He is board certified in periodontology and Adjunct faculty at the University of North Carolina at Chapel Hill. Dr. Cataldo is part of one percent of dental professionals providing the LANAP® FDA cleared laser procedure for gum disease treatment. To learn more about Periodontics and Dental Implants of North Carolina and their dental services, visit their website at http://www.carolinaperioimplants.com and call (919) 724-4273.