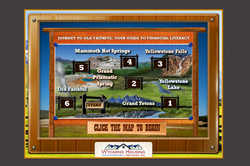 We know that this learning experience will help many people reach their financial goals, which is something both Designing Digitally and Wyoming Housing Network are proud of.
(PRWEB) May 29, 2014
Designing Digitally, Inc., a full-service interactive design company, has partnered with the Wyoming Housing Network to create a one stop shop for financial literacy through the development of a custom Learning Management System/website which houses an interactive and engaging E-Learning course about money management, titled Journey to Old Faithful.
The journey to self-reliability takes users on an adventure from the Grand Tetons to Old Faithful, where stops along the way provide interesting facts about the history, geology, and wildlife of Yellowstone. Each stop in the course features a learning module full of interactivity, which helps user's practice the knowledge they learn along the way. As they learn to become financially responsible (focusing on goal setting, budgeting, saving money, borrowing/credit, and identify theft/other financial crimes), players are tested on their knowledge and earn virtual money which determines their stay in Yellowstone: a suite with many luxuries, a hotel room with some amenities, or camping in Bear Country.
Users of the course can also utilize the website to put what they learn into action through the Household Budgeting and Expense Tracker tools, which offers a comparison between the two, allowing users to easily see how their monthly budget stacks up to their actual expenses. A debt calculator also gives users the ability to see how long it will take to pay off debt and how much it cost them.
Kirby Keller at Wyoming Housing Network spearheaded this effort in collaboration with the team at Designing Digitally, Inc. Regarding the project, Keller stated that, "What impressed me the most with Designing Digitally was how they were able to take what I was thinking and make it look even better that what I was thinking. Our program looks amazing and plays smoothly. If a similar organization to mine is looking to create a fun, interactive game for its clients, Designing Digitally will not disappoint. You will definitely end up with a service that you are proud of and your clients will enjoy."
Abby Hughes, Director of Contract Management at Designing Digitally, Inc., remarked that "working on Journey to Old Faithful was a delight from start to finish. We know that this is something that will help many people reach their financial goals, which is something both we and our client are proud of."
You can visit the web site or read the case study here!