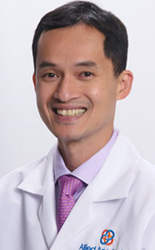 Women who are concerned about the epidural's effects should talk to their anesthesiologist to get the facts.
Orange, Calif. (PRWEB) May 27, 2014
Allied Anesthesia physician Dr. Thanh Tran, who specializes in labor and delivery at St. Joseph Hospital in Orange, spends a lot of time providing information about epidurals for his patients having their babies. Sometimes he is able to educate them by correcting misinformation they may have obtained from friends, family or the Internet.
An epidural is a procedure available to women in labor that relieves pain and promotes more comfortable labor and delivery. The anesthesiologist gently introduces pain medicine through a catheter in the lower back, bathing the nerves to stop the painful sensations of labor.
In addition to relieving pain associated with labor, epidurals allow the mother to be awake, alert and comfortable during labor. Less medication is administered so it's safer for the mother and baby. And, if a C-section is called for, the epidural can be used to prevent the need for general anesthesia.
Dr. Tran is always happy to answer questions from his patients. At times, he finds that some women are overly concerned that the procedure will cause chronic back pain, prolong labor or make it difficult to breastfeed.
"To explain these misconceptions, I talk with my patients about the science behind the epidural, before the onset of severe contractions, so they have plenty of opportunity to ask questions," Dr. Tran said. "I usually draw diagrams to help illustrate my points as well as quoting the updated literature on the risks and benefits of epidurals."
Every patient handles labor pains differently. Ultimately, it's up to the patient to decide whether or not to request an epidural and when to receive it. When an epidural is administered by a skilled anesthesiologist, Tran said, it is a very safe procedure. A thorough review of the medical history and examination by an anesthesiologist is recommended beforehand since there are a few medical reasons why placing an epidural might not be a good idea, such as some neurological diseases or blood-clotting disorders.
Myths surrounding epidurals include:

Feeling cold: Some women are concerned they will experience permanent coldness in their back after the procedure is complete.
Chronic back pain: Back discomfort is usually related to the pregnancy and the stress of labor.
Slowing down labor: There is no direct link between epidurals and prolonged labor or increased use of Pitocin, a medication used to augment uterine contractions.
It's too late or too early to get an epidural: Women can usually receive an epidural at any point during labor, provided there is enough time for it to take effect before delivery.
Difficulty breastfeeding: There is no current evidence that the use of epidurals causes breastfeeding difficulties.
Women who are concerned about the epidural's effects should talk to their anesthesiologist to get the facts.
"Requests for epidurals are dependent on many factors, but in general, there's an increase in the use of epidurals at our hospital. Patients don't want to feel labor pain, and they realize that we are anesthesiologists with many years of experience who can provide them safe and effective pain relief," Tran said.
---
About Allied Anesthesia: With 53 highly qualified anesthesiologists on staff, Allied Anesthesia provides adult and pediatric anesthesia services to St. Joseph Hospital of Orange, the Children's Hospital of Orange County, the Main Street Specialty Surgery Center and many other Southern California health care facilities.
All Allied Anesthesiologists are Board Certified in Anesthesiology, and they staff and manage the most efficient operating rooms in Southern California. Allied specializes in pediatric anesthesia, performing approximately 12,000 pediatric anesthetic procedures a year. All of the group's anesthesiologists have a special interest in excellent pediatric perioperative care and are Board Certified or Board Eligible in Pediatric Anesthesiology.
Allied is a member of the California Society of Anesthesiologists and the American Society of Anesthesiologists.
For more information, visit http://www.alliedanesthesia.com.