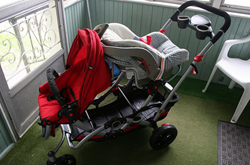 (PRWEB) May 28, 2014
Finding the market's best double stroller is now easy like never before, courtesy of Doublestrollerz.com. The expert reviewers at Doublestrollerz.com have just completed their market survey where hundreds of products from different manufacturers were examined. At the end of their study, a list of top five double strollers has been published in the website to help parents make the correct buying decision. During this review, the experienced reviewers have assessed each product on the basis of important factors such as ease of use, maneuverability, comfort, safety, and value for money.
Parents having two small kids of similar age find it extremely difficult to handle them both while going out. Double strollers were designed particularly to assist these parents. However, with too many choices, it is never easy for them to find out a product that serves all their purposes. Unlike hundreds of review websites in the web, Doublestrollerz.com only provides genuine and authentic reviews based on real customer experience.
According to Doublestrollerz.com, Britax B-Agile Double Stroller is the best double stroller at present. With a weight of just 28 pounds, it is one of the lightest double strollers in the market. It can carry up to 50 pounds per seat. Some of its top features include a quick-fold system, height adjustable handle bars, huge under seat storage, extra storage pockets behind the seats, and a no re-thread, adjustable 5-point harness. The product also comes with a Britax Click & Go infant car seat receiver.
Some other products recommended heavily by Doublestrollerz.com are BOB Revolution SE Duallie Stroller, Baby Jogger City Mini GT Double Stroller, Contours Options LT Tandem Stroller, and Schwinn Turismo Swivel Double Jogger. All five double strollers recommended by Doublestrollerz.com have received excellent ratings. The website also provides plenty of customer testimonials for each of these products.
To sum up the findings of their review, a senior official from Doublestrollerz.com said, "It may be hard to find a double stroller that has everything you want and need. But these 5 come pretty close to perfect. They keep your children's safety and comfort in mind, and mostly won't drain your pockets, either."
To find out further details relating to this comprehensive review, please visit http://www.doublestrollerz.com/.
About Doublestrollerz.com: Doublestrollerz.com is a review website offering authentic double stroller reviews. The website has just published a list of top five double strollers based on their market study.
Website: http://www.doublestrollerz.com/