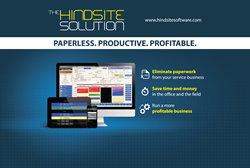 Thee show offers a great opportunity for professionals to step away from their business, assess new products and learn from their peers.
St. Paul, MN (PRWEB) May 25, 2014
HindSite Software will be exhibiting at the 17th Annual Snow and Ice Symposium in Columbus, Ohio. The trade show, which takes place June 19 – 20 and is hosted by the Snow and Ice Management Association (SIMA), will feature over 100 companies providing products, programs, and services for snow and ice management industry professionals. Businesses will be able to view new products, make purchasing decisions, and learn from SIMA's supporters.
HindSite will be located at booth #551 at the SIMA show; the company will demonstrate their snow removal software solution. Visitors to HindSite's booth will be entered into a drawing to win an Android tablet.
HindSite will also be hosting a cocktail hour after the trade show on Thursday, June 19th at the Park Street Tavern; just two blocks from the convention center. The event, which lasts from 5:30 p.m. to 7:00 p.m., provides snow industry professionals with an opportunity to network with their peers and to gain a competitive advantage.
"When I owned a landscape irrigation business, I learned how valuable trade shows can be," explained HindSite President and founder, David Crary. "They offer a great opportunity for professionals to step away from their business, assess new products and learn from their peers."
HindSite's snow plowing software solution enables contractors to easily communicate to their workers in the field, better manage the complex triggers and billing rules that are inherent to snow removal contracts, and send invoices quickly, improving cash flow. Even better, the software is the only one of its kind with a daily license option, enabling contractors to save money by only paying if they are using the software in the field.
"Our software has been proven to significantly reduce administrative time," explains Crary. "We've had snow removal customers tell us the peace of mind our software delivers is immeasurable. It truly is a competitive advantage."
For most in cold climates, the approaching snow season is not something they enjoy. But for snow removal business owners, the arrival of the snow season is something they relish. The more it snows, the more profitable they can become.
However, with an abundance of snow comes the potentially crippling problem a snow removal business could face if they use paper as opposed to field service software. Investing in snow removal software can pay such huge dividends for snow businesses; by eliminating paperwork, they can bill faster, route more efficiently and deliver better customer service.
About HindSite Software
HindSite Software has helped contractors better manage and grow their business with field service software since 2001. Initially designed as irrigation business software, HindSite today assists service businesses with; scheduling and billing, contact management, field data collection, and invoicing in QuickBooks® and Sage 50. When used by snow removal businesses, this paperless snow plowing software has been proven to increase efficiency and organization, meaning greater profit potential with less administrative time.