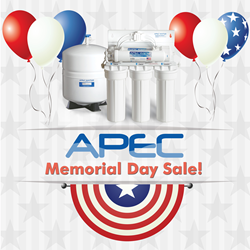 City of Industry, CA (PRWEB) May 23, 2014
This Memorial Day weekend, APEC water is offering exceptional deals on their entire line of home reverse osmosis (RO) drinking water filters and whole house water filtration systems. Starting today, every residential RO system will include a free clear housing upgrade, an extra yearly filter set, and a water testing meter ($100 combined value) in addition to price markdowns on every system. On top of the extra free gifts, customers will be able to take an additional 5% off on all residential ROs and on their most popular lines of whole house water filtration systems, including the Total Solution complete home water filtration series. This is an exclusive and limited-time offer for customers to enjoy some of the lowest prices of the year direct from the manufacturer website.
APEC's has greatly reduced the prices of their popular RO-45 and RO-90 reverse osmosis models and added a host of free gifts and upgrade options. Built in the USA, these drinking water systems use high quality components to purify water and produce great tasting bottled water quality for the home. On top of the 5% discount, every residential RO system will include a free clear housing upgrade, an extra yearly filter set, and a water testing meter. The clear housing will allow users to inspect the color and condition of their filters for better system care, and the water meter will allow them to monitor the percentage of contaminant removal provided by their system. "Our RO systems produce bottled water quality without the plastic taste that is common in many bottled brands," says Chris Rodriguez at APEC Water. "Many of our customers say it's the best water they've ever tasted."
APEC is also offering an additional 5% discount on many already discounted whole house systems. The US manufacturer carries whole house treatment systems for all types of water conditions to treat chlorine, sediment, fluoride, iron and more from the home. "The advantage of a whole house water filter is that they deliver purified water throughout the entire home to every faucet," says Rodriguez. Added at the entry point of the home, whole house filters provides cleaner water to every shower which can protect skin, hair and lungs from chemicals in the water. "We also offer a Total Solution water filtration package that includes a RO system with multiple whole house filters to deliver comprehensive protection from the widest range of water contaminants," says Rodriguez. "All our systems are proudly built in the USA." Visit APEC's promotion page to get full details on their Memorial Day Weekend sale going on from now until May 27th, 2014.
About APEC Water
For over 17 years, APEC has been an industry leading manufacturer of high performance residential and commercial water purification systems. Based out of Southern California, APEC specializes in building the highest quality reverse osmosis drinking water systems and backwashing whole house water filters right here in the USA. The company offers their products exclusively through their website at Freedrinkingwater.com which also provides an extensive water filtration guide and library to the public. To learn more about APEC Water and the Total Solution system, please visit http://www.freedrinkingwater.com or call customer service at 1-800-880-4808 for more information.