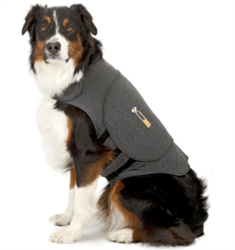 Traveling can be stressful for pets, which is why we offer a variety of calming solutions to ease your pet.
Durham, N.C. (PRWEB) May 27, 2014
Nearly 47 percent of Americans are planning on driving to a vacation destination this summer, leaving pet owners to make additional arrangements for their pets. For many, this means bringing the pets along for the ride. According to the American Pet Products Association's National Pet Owner's Survey, a solid one third (32 percent) of dog owners bring their dogs when traveling in a car for a trip lasting at least two nights. Travel accommodations are increasingly becoming easier for pet owners, with more and more hotels and destinations offering pet-friendly options. What pet parents may not know is that the confined space, long durations and unfamiliar motions associated with car travel can cause dogs to act anxious or erratic. Examples of pet car travel anxiety include: barking or whining, restlessness, scratching and carsickness. Additionally, anxious dogs can become a danger to others by jumping on or distracting the driver.
"At ThunderWorks, we are advocates of including your pet in family vacations and fun," said Phil Blizzard, founder of the ThunderShirt and ThunderWorks CEO. "We just like to remind pet parents that traveling can be stressful for pets, which is why we offer a variety of calming solutions to ease your pet when traveling."
With its patented design, ThunderShirt's gentle, constant pressure has a dramatic calming effect for dogs and cats if they are anxious or fearful when riding in the car. Using the ThunderShirt prior to car entry can help combat a pet's erratic behavior, even for short car rides. Anxiety experts believe that pressure has a calming effect on the nervous system and releases calming hormones like endorphins or oxytocins.
The ThunderShirt has earned the most veterinarian, animal trainer, behaviorist and customer endorsements and recommendations in the pet industry. As a company, they have substantiated research on each of their products, and offer the most comprehensive, proven-effective line of pet stress and anxiety solutions which also includes the ThunderSpray, ThunderCap, ThunderToy, ThunderLeash and more. ThunderShirt is available in XXS-XXL and retails for $39.95.
In addition to finding the best pet stress and anxiety solution product for your pet, ThunderWorks also reminds pet parents:

Give pets plenty of rest stops. Stop frequently to allow them to exercise and eliminate. But never permit a pet to leave the car without a collar, ID tag and leash.
When planning a trip, note where you can locate nearby animal clinics or animal hospitals in case a pet needs medical attention during the trip.
Bring along a human buddy whenever possible, share the driving and pet caretaking duties with a friend or family member to avoid distractions while driving and ensure the pet's well-being.
Don't ever leave a pet alone in a car. Even quick stops may feel like no time, but can lead to heat damage in pets, even in seemingly mild weather.
Leave the front seat for humans. Keep pets secured in the back seat of the car. If an airbag deployed while a pet was in the passenger seat (even in a crate), it might injure the pet.
Keep pets inside. Pets who are allowed to stick their heads out the window can be injured by particles of debris or become ill from having cold air forced into their lungs. Never transport a pet in the back of an open pickup truck.
For more information about ThunderWorks, or if you are a member of the media and would like to request a product sample or interview with company founder, Phil Blizzard, please contact Kerry Sutherland at K. Sutherland PR, Kerry(at)ksutherlandpr(dot)com or 949-328-4895.
About ThunderShirt and ThunderWorks
Founded in 2009 in Durham, N.C., ThunderShirt's mission is to bring relief to the millions of dogs, cats and their families struggling to cope with anxieties. The ThunderShirt is designed to apply a constant, gentle pressure to a dog or cat's torso creating a dramatic calming effect for most users. ThunderShirt continues to investigate anxiety and fear issues with scientific-based studies and surveys from recognized veterinarians and pet owners. ThunderShirt has already helped millions of dogs and cats across the country and around the world. The company also donates thousands of ThunderWorks products and funding to rescue groups and shelters to help these organizations manage their anxiety cases and find permanent homes.
In recognition of the company's expanding product line into more calming solutions, ThunderShirt has changed its corporate name to ThunderWorks. As always, the company is committed to developing calming pet products that are effective, simple to use and strengthen the bond between pet and pet parent. Together, let's be better humans to our pets. Products are sold at http://www.ThunderWorks.com and by retail stores, veterinarians, trainers and kennels across the country.