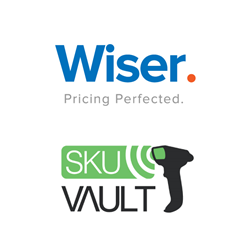 'This is a great partnership because pricing, inventory, and fulfillment go hand-in-hand. Together we can bring even greater value to the ecommerce industry,' said Arie Shpanya, CEO of Wiser.
San Francisco, CA (PRWEB) May 28, 2014
Today, Wiser, the premier dynamic pricing engine, announced a new partnership with SkuVault. SkuVault prevents online retailers from running out of stock and improves warehouse efficiency. The Wiser and SkuVault partnership brings together two industry leaders that work to optimize inventory and profit for the world's top online retailers.
Andy Eastes, CEO & Co-Founder of SkuVault, explained, "We're very excited about SkuVault's strategic partnership with Wiser – Wiser gets you the best prices on the market, and SkuVault eliminates picking and shipping errors, making sure that those best-priced products reach their end consumer. Both of our companies help give eCommerce merchants an edge."
Wiser's comprehensive suite of products helps online retailers price and merchandise effectively. Their core product, WisePricer, makes it possible for retailers to price for profit by implementing advanced pricing rules, and automating changes in real time. The suite consists of complementary products such as WiseAssortment, which allows retailers to view and analyze competitor inventory to optimize their own assortment. The Wiser products bring awareness, the power of automation, and analysis to retailers worldwide. Wiser has been effective in boosting profit, revenue, and sales for numerous enterprise level clients.
SkuVault is a platform that helps online retailers manage inventory and track their progress. It features an easy to use interface and an analytics dashboard that allows retailers to make informed purchasing and operation decisions. Advanced tracking eliminates the guess work from fulfillment and retailers will always know who did what in the system and what shipped when.
"This is a great partnership because pricing, inventory, and fulfillment go hand-in-hand. Together we can bring even greater value to the ecommerce industry," added Arie Shpanya, CEO of Wiser. SkuValut's inventory intelligence and Wiser's proven pricing and monitoring engine help make ecommerce move more smoothly and benefits online retailers on a global scale.
About Wiser:
Wiser provides a complete suite of solutions to give retailers, brands, and manufacturers the edge to stay both competitive, and most importantly, profitable.
Wiser's core product is WisePricer, full-featured dynamic pricing and merchandising engine that monitors, analyzes and reprices retail products in real-time. WisePricer enables retailers to boost profit margins and revenue, price with confidence, and improve merchandising through powering the development of a sound pricing strategy.
Wiser also offers a MAP monitoring solution, WiseMapper, for brands and manufacturers to monitor and protect their pricing across the thousands of retailers selling their products.
About SkuVault:
SkuVault is an inventory and warehouse management system that integrates with ChannelAdvisor, Amazon, eBay, ShipWorks, ShipStation, Bigcommerce, Shopify, and more, and is complete with barcoding and jampacked with other cool features to help eCommerce retailers prevent out of stocks, improve warehouse efficiency, and reduce human error. Use SkuVault to unlock the potential of your inventory.