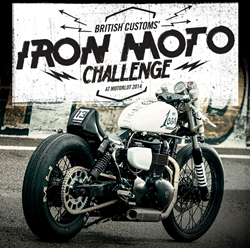 (PRWEB) May 27, 2014
The fierce rivalry between 1960's England's scooter-riding "Mods" and motorcycle-mounted "Rockers" has became the stuff of motorcycling legend. The brawls and riots that broke out any time these groups clashed are partly responsible for shaping the image and culture of motorcyclists for decades to come. Steel Toe Press pays tribute to that rivalry every year with the Motoblot Show in Chicago (formerly known as Mods vs. Rockers Chicago), a celebration of motorcycle and rock and roll culture that features custom bikes and hot rods, an amateur film festival, live music, and a pin-up contest.
British Customs has partnered with Triumph Motorcycles to bring the bike building competition of the year to the 2014 Motoblot Show, June 13-15. The British Customs Iron Moto Challenge, presented by ICON 1000 and Raen Optics, will feature four Chicago area Triumph dealers in this "anything goes" build off. The competitors will be randomly assigned a bone stock Triumph motorcycle to base their builds on, then will be given free reign to do whatever prep, paint, or performance modifications they want before the show. When these four bikes arrive at Motoblot on June 14th, the builders will harness the spirit of 1960s customizers in this is no holds barred shootout. Fans will watch as these builders strip down their machines and build them back up into unique custom rides right there on the streets of Chicago.
Competitors will pull from British Customs Parts Packages in order to complete their builds. The result will be four unique bikes that breath the passion of their builders and showcase the variety of looks and styles that can be accomplished with British Customs bolt-on components. No matter what each of the four dealers comes up with for their build, incorporating British Customs' parts will complement and enhance the style and performance of any Triumph.
The winning build will be determined by a panel of judges composed of industry leaders Julian Heppekausen of Deus Ex Machina, Brian Klock of Klock Werks Kustom Cycles, Kevin Dunworth of Loaded Gun Customs, and Christy Lee of All Girls Garage, each of them experts in the world of custom bikes. The builds will be judged on their curb appeal, paint quality, and of course performance and hoonability! Fans will be able to cast their vote for their favorites at the show, which will also factor into the judges' decisions.
British Customs will soon be offering Dealer Packages at Triumph dealerships across the country. Triumph owners will be able to mix and match from Appearance, Performance, Lighting, Protection, Control, Driveline, Suspension, Braking, Paint & Body Packages to customize their sport bike, cruiser or modern classic to create a unique machine. See what this year's builders might be using to create their customs at http://www.british-customs.com.
To learn more about this year's Motoblot Show, including a complete event schedule, entry information, tickets and more, visit http://www.motoblot.com. Fans can follow along and get live updates from the event using #ChicagoMachine on facebook, twitter and instagram.