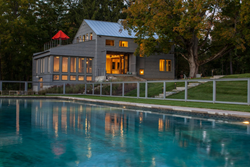 San Francisco (PRWEB) May 27, 2014
The winners are in. NanaWall Systems®, renowned for its disappearing glass wall systems that have transformed interior and exterior spaces alike, is pleased to announce the results of its second annual Photo Story Contest. The company invited NanaWall customers to submit their entries in hopes of gaining national exposure and notoriety for their design projects.
Contest winners have a chance to be featured in a NanaWall Systems' national advertising campaign and/or a NanaWall idea book, as well as on the NanaWall website and blog.
The contest invited architects, designers, contractors and homeowners to submit their favorite NanaWall projects—in words and pictures—to NanaWall Systems. The contest offered a dozen categories, including "Best Residential," "Best Remodel," "Best Hospitality," "Best Pool House" and "Best Commercial."
"When we launched the contest last year, we were overwhelmed by the positive responses," notes NanaWall Systems CEO Ebrahim Nana. "Last year's winner—a 1,200 square-foot ranch house—was ultimately featured in a New York Times article entitled 'The Big Shrink.' This year, the entries are even more beautiful and impressive."
Winners wrote glowing testimonials about NanaWall Systems exceeding their design visions, from revealing a scenic view to expanding their living space. Winner of the "Best Residential" category, homeowner Al Cullen, valued the functionality of NanaWall
Systems as it created a spacious environment and unobstructed views for his ocean-front home in Maui. Debra Cummings of SANDdesign, winner of "Best Hospitality," appreciated the space-saving benefits of a NanaWall unit for the renovation of LUXE City Center Hotel in Los Angeles.
To learn more about the winning projects visit: http://www.nanawall.com/photo-story-contest-winners-2013.
ABOUT NANAWALL SYSTEMS
With 25 years of experience and more than a million opening glass panels installed worldwide, NanaWall Systems is the industry leader, trusted by architects, design professionals and homeowners. Providing precision engineered opening glass wall systems, the NanaWall product line offers countless style options, unsurpassed durability and superior performance—all based on a foundation of rigorous testing, research and innovation.
NanaWall Systems is located in Corte Madera, California, with 22 showroom and design studio locations across North America. NanaWall Systems is the exclusive North American partner of Solarlux Germany, the world leader in operable glass wall technology. For more information, visit nanawall.com or call 800-873-5673.