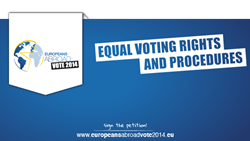 We need to take a step forward with our democracy in Europe by giving all EU citizens the same voting rights and procedures in European Parliament elections
West Chester, PA (PRWEB) May 24, 2014
Last Thursday May 22nd, EU citizens living in Britain have been stopped from voting after confusion over a series of registration forms. European Citizens Abroad advocate for a change in legislation that would provide all EU citizens with equal voting rights following the same procedures to vote in European Parliament elections. Over 600 have signed our petition asking for this change.
According the Article 22 (2) of the Treaty of Rome "Every citizen of the Union residing in a Member State of which he is not a national shall have the right to vote and to stand as a candidate in elections to the European Parliament in the Member State in which he resides."
However, citizens from Ireland, Slovakia, Cyprus, Czech Republic and Malta cannot vote for candidates of their country of origin when they live in another EU Member State. When looking at the situation for EU citizens who live outside the EU, in addition to these countries, Italy, Belgium, Denmark and Greece do not allow their expatriates to vote in EP elections either. In addition, administrative complexities can also prevent motivated voters from giving their ballot.
European Citizens Abroad ask European leaders to give the same voting rights to all EU citizens regardless of where they live and harmonize electoral procedures for the European Parliament elections.