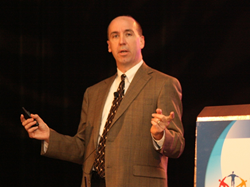 The Internet of the future, or rather the 'Internet of Things' will be all around us, in fact it's already getting there. My job is to help you use it to your advantage.
Los Angeles, CA (PRWEB) May 29, 2014
Always on the cutting edge, Verizon is looking at how businesses and public agencies are leveraging the accelerated growth of connected devices to increase operational efficiencies, enhance safety and security and, in some cases, generate new revenue streams. To that end, they have invited trend expert and global futurist Jack Uldrich to keynote their event, just outside of L.A., in Anaheim on May 29th.
Uldrich who also speaks internationally on subjects such as change management and unlearning, will discuss with his Verizon audience the possibilities presented by the Internet of Things.
Uldrich says, "The Internet of the Future will be all around us, and we will need to shift our thinking of the Internet from 'a place you go' to a new and much different paradigm of 'living in the Internet.'"
He goes on to say, "A more comprehensive vision of the IoT is one where a world of inexpensive sensors—embedded in your eating utensils, pajamas, mattress and home lighting system, etc.—work in concert to monitor and measure everything from your diet to your sleep behavior, and then use this information to modify your future actions in beneficial ways. For example, the system could tell you to reduce the amount of caffeine you consume after 6 p.m. as well as train your bedroom lights to gradually increase their brightness the precise moment you come out of REM sleep."
Intrigued? Don't miss this opportunity to hear Uldrich speak and find out what's possible with Verizon's Connected Solutions and machine-to-machine (M2M) technology; or invite him to speak at your event.
Parties interested in learning more about Jack Uldrich, his books, his daily blog or his speaking availability are encouraged to contact Amy Tomczyk at (651) 343.0660.
Jack Uldrich is a renowned global futurist, technology forecaster, best-selling author, editor of the quarterly newsletter, The Exponential Executive, and host of the award-winning website, http://www.jumpthecurve.net.