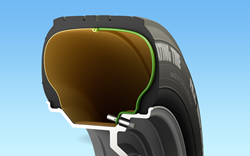 Prague, Czech Republic (PRWEB) May 26, 2014
CODA Development, the Czech inventor of the Self-Inflating Tire (SIT) unveils another version of its SIT technology at the Reifen Messe in Essen, Germany.
The original SIT technology is a tire-integrated, fully automatic tire pressure maintenance system utilizing tire rotation and atmospheric air to keep tires optimally inflated at all times. The system integrates a peristaltic tube chamber into the tire design, which automatically inflates the tire to its optimal pressure level, but only when needed. The company calls this embodiment "INTEGRATED SIT". A new SIT version called "RETROFIT SIT" is being developed and will be presented for the first time at the Reifen Messe in Essen, Germany in May 2014.
The RETROFIT SIT uses the same simple principles of SIT technology in a self-standing product retrofittable to regular tires.
When a vehicle equipped with SIT tires is put in motion, under-inflated tires will automatically re-inflate to their optimal operation pressure, which the system constantly maintains while the tires are in use. This in turn directly impacts the vehicle handling and overall driving safety, as well as allowing for optimal fuel consumption, CO2 emissions, and a longer tire life-span.
SIT is an original technology, invented and widely patented by CODA Development Czech Republic. The company is looking for manufacturing partners who want to integrate SIT technology into their production lines.
CODA will exhibit SIT technology at the Reifen Messe in Essen, booth No. 6F10, hall 6 from 27.5. to 30.5.2014.
CODA Development s.r.o.
Taborska 51
140 00, Prague
Czech Republic
http://www.selfinflatingtire.com
info(at)selfinflatingtire(dot)com