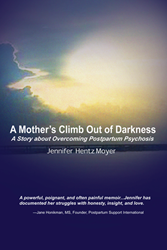 A powerful, poignant, and often painful memoir, Jennifer has documented her struggles with honesty, insight and love.
Amarillo, Texas (PRWEB) May 28, 2014
May is recognized as Perinatal Mood Disorders Awareness Month, and while many women experience mood changes following the births of their babies, Postpartum Support International estimates that as many as 15-20% of women experience greater feelings of anxiety and depression. Studies show that women with a history of depression are at higher risk, but that is not always the case. Praeclarus Press is proud to bring the incredible story of a mother's survival through the harrowing course of events that had the potential to dismantle her life.
In this heartrending memoir told through memories, journals and medical records, one woman, Jennifer Hentz Moyer, shares her incredible journey into and out of postpartum psychosis. Often misunderstood and misdiagnosed this disease impacted not just Jennifer herself, but her beloved family as well. Following the birth of her son, Jennifer began a downward spiral of sleepless nights, gripping fear that someone would harm her or her baby, and irrational distrust of everyone including her husband. The delusion became real to her and at that point she became so impaired that she could not even recognize her doctor, who dialed 911.
A call by her doctor began a medical journey which would forever change Jennifer. Through many hospitalizations and attempted medical interventions, she would eventually stumble upon a doctor who would become the catalyst to turn her medical crisis in the right direction towards positive mental health. Jennifer's deepest heart-cry is to get the message out: there is help, there is hope and you are not alone.
Through May 31, 2014, save 10% on all orders placed in the online store, including books, art, and recorded webinars. Simply use code "HMD2014" upon check-out.
Praeclarus Press is a small press specializing in women's health, founded by health psychologist, Kathleen Kendall-Tackett, Ph.D, IBCLC, FAAP. Praeclarus features books, e-books, webinars, white papers, and art, and publishes work on all aspects of women's health. It is based in Amarillo, Texas.