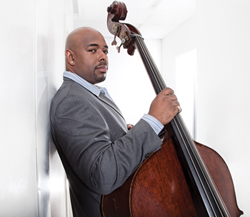 Fort Lauderdale, FL (PRWEB) May 24, 2014
South Florida's premier modern jazz organization is privileged to feature the Christian McBride Trio. Mr. McBride is at the zenith of modern acoustic and electric bassists. Best known as a jazz musician, he also is in tremendous demand in several genres. This concert takes place at the 500-seat Rose & Alfred Miniaci Performing Arts Center on the Nova Southeastern University campus, 3100 Ray Ferrero, Jr Blvd in Davie 33314. Tickets are $40 and $15 for students (under age 25 with I.D.) and may be purchased from the Broward Center Box Office by calling 954.462.0222; or toll-free at 877-311-7469, as well as online at http://www.southfloridajazz.org, the presenting organization's official Web site.
Bassist Christian McBride is one of those bigger-than-life artists that just burst onto the music scene seemingly in full bloom. His father and great uncle, both well-known Philadelphia bassists, mentored him early. By his 21st birthday, he was a remarkably mature player and rapidly became everyone's favorite young acoustic bassist of the 1990s and then the 2000s. Christian's huge sound and prodigious technique, both with plucked and bowed solos, recall the legendary Ray Brown and particularly Paul Chambers. More importantly, his solos evoke the melodic lines of a horn player. He actually started on electric bass when he was eight and took R&B gigs in high school, but by then he was getting more interested in jazz and playing the acoustic bass.
McBride studied at Juilliard (starting in 1989) and then played briefly in the bands of Bobby Watson, Benny Golson, Roy Hargrove, and Freddie Hubbard. He toured with the Benny Green's trio, played duets with Ray Brown at the 1994 Monterey Jazz Festival, and recorded his debut as a leader for Verve before touring with his own group in 1995. Beginning with A Family Affair in 1998, McBride began opening up his sound and incorporating more pop, funk, and fusion styles he grew up with. This approach continued through such albums as Sci-Fi and Vertical Vision. McBride has made a few label changes, as he has changed the configuration of his band. He now comfortably resides on Mack Avenue Records for which he recorded Out Here in 2013 with his trio.
McBride undoubtedly is the most widely recorded and most in-demand bassist in contemporary music. It is not only in the jazz world that Christian McBride has left his mark. An equally adept electric and acoustic bassist, he has recorded with Sting, Queen Latifa, DJ Logic, Diana Krall, and classical vocalist Kathleen Battle. In the last few years, he has become, when available, he is the regular bassist for Pat Metheny and recurrently plays with Chick Corea in Five Peace Band and Chick's trio with drummer Brian Blade. Further, he just left the position of Creative Chair for Jazz with the Los Angeles Philharmonic Orchestra, relinquishing it after four years to Herbie Hancock. Christian is co-director of the National Jazz Museum in Harlem. And he is still in his thirties.
ARTISTIC PERSONNEL:
Christian McBride – acoustic and electric basses
Christian Sands – piano
Ulysses Owens, Jr. – drums
A portion of this concert is underwritten by South Florida JAZZ members Marlies and Helmut Kraemer.
Funding for this organization is provided in part by the Broward County Board of County Commissioners as recommended by the Broward Cultural Council.
For more information or to buy tickets, visit South Florida JAZZ.