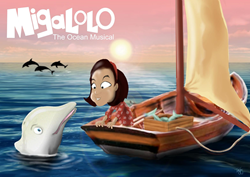 "The Migalolo Musical eBOOK app" will be a magical experience for parents and children with an amazing story, beautiful illustrations, and wonderful music to enjoy!
Hong Kong (PRWEB) May 27, 2014
Happy Diamond Music Studios Seeks Funding for Educational Children's App Catalogue – Help Bring Migalolo: The Ocean Musical to Life on Your Mobile Device
Happy Diamond Music Studios is pleased to announce that a new musical app is currently in production. The educational app for kids, Migalolo: The Ocean Musical, is seeking funding from Indiegogo supporters.
The campaign goes live on May 8th and is seeking funding through July 7th. Contributors can choose from a variety of backer rewards. Contributions will be used to offset the production costs of building the app so that Happy Diamond Music Studios will be able to continue to create educational musical adventure stories.
Migalolo: The Ocean Musical follows the adventures of Henry, a young boy in love with the ocean. Through the magic of a sea fairy, Henry and his pet cat are turned into dolphins who must travel across the oceans in order to get back home. Along the way, they meet a colourful variety of singing fish friends (from a rapping trout to a crooning manta ray!) in a musical adventure that focuses on the importance of ocean conservation. Children will learn about various threats to the ocean (from pollution and dead zones to overfishing and dolphin hunting) and what people can do to save our fragile life-giving waters.
The app is comprised of nine interactive chapters featuring foot-tapping and fin-flapping original songs. An international team including accomplished musicians, graphic artists, voice actors, writers, and developers has been assembled and is currently working to bring this story to life.
Sheet music and lyrics to each catchy song will be included in the app so kids can sing and follow along with each tune.
This is the second in an expanding catalogue of musical and educational apps geared at school-age children. Happy Diamond Music Studios has already released one other musical app, Kakamega: The Rainforest Musical, which reached 11th on Apple's iTunes charts. Happy Diamond Music Studios plans to continue producing apps and is in preproduction stages on "Kitiroha," which focuses on the protection of endangered African elephants.
About Happy Diamond Music Studios
Award-winning composer Shirley Choi is the creative force behind this innovative multimedia company that seeks to educate children through music. Ms. Choi has travelled the globe and understands the importance of teaching kids at early ages of our planet's fragility. Happy Diamond Music Studios focuses on the goal of educating kids about the environment through musical adventure stories that espouse the concepts of friendship, faith, and love.