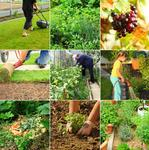 Beneficial Microorganisms That Enhances Soil Quality for Better Fruit and Vegetable Yields and Controls Odor As Well
Lake View Terrace, California (PRWEB) May 24, 2014
Effective Environmental Services, a business dedicated to the creation and sales of environmentally friendly products, today announces the launch of their new product.
The product, called Farmer's Helper, is an organic blend of beneficial microorganism designed to significantly increase the soil quality of farms and gardens.
Clifford Woods, the CEO of Effective Environmental Services, says, "This product is a special formulation of beneficial microorganisms that enhances soil quality for better fruit and vegetable yields, controls odor (pee holes and throughout the farm, horse pen, cow pens, pastures, chicken coops etc.), and is a great pest control as well; it especially keeps mosquito larvae from hatching in water troughs."
Effective Environmental Services is a subsidiary of Organic Environmental Technology. The company sells the organic and environmentally friendly products created by OET to individuals and businesses.
Developed with the consumer experience as the primary goal, the company's philosophy is based on the idea that there are no magic bullets and a lot of very smart people have been working the problem over passionately.
In recent years, a revolutionary organic environmental technology rooted in millions of years of evolution has emerged that harnesses Mother Nature's tiniest creatures in a unique way to effectively reverse environmental degradation, eliminate toxic pollutants and create sustainable ecosystems naturally.
A few of Effective Environments Services highlighted products are:
Pond Magician:
This one cleans ponds, helps to control algae by "competitive exclusion" of harmful bacteria, all the while enhancing the whole environment of your pond. It is a natural organic pond cleaner that cleans ponds, lakes, fresh & salt water aquariums and because of its pro-biotic value, it benefits your fish and plants as it works.
Magic Sinkers:
These are 100% organic and are used to remove sludge, algae and pollutants in ponds, rivers, lakes and oceans. Magic Sinkers are made of soil, beneficial microbes, fermented wheat bran, black strap molasses and mineral powder, formed into tennis size balls, then dried.
Find out more about Effective Environmental Services products here at http://www.effens.com/ and specifically about Farmers Helper here at http://www.effens.com/our-products/farmers-helper/.
Effective Environmental Services
Clifford Woods, CEO
Phone: (818) 897 - 4444
Email: ceo (at) effens (dot) com