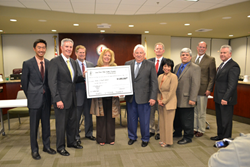 With the assistance of this donation, the William S. Hart Union High School District now has the resources to plan for its brighter future
Santa Clarita, CA (PRWEB) May 29, 2014
The Santa Clarita Facilities Foundation, a 501(c)(3) non-profit organization based in Santa Clarita, Calif., recently awarded the William S. Hart Union High School District $1,000,000. The funds will be used to install shade structures at 10 schools within the William S. Hart Union High School District. The Santa Clarita Valley Facilities Foundation was founded in 1998 to provide financial assistance to the William S. Hart Union High School District in locating, acquiring, and developing new school sites.
Richard A. Patterson, a Partner at Owen, Patterson & Owen and President of the Santa Clarita Facilities Foundation, along with his Board of Directors, has been working diligently with the foundation since 1988 to bring forth this donation. In addition, many select future school sites, totaling in excess of 500 acres of land have been conveyed to the Hart District. Golden Valley High School, the newest one in the district, now sits on one of the 60 acre parcels.
"With the assistance of this donation, the William S. Hart Union High School District now has the resources to plan for its brighter future," said Mr. Patterson. "The district can continue to educate the future leaders of our community and the world with strong academic instruction, in the best school facilities which help foster a positive learning environment."
The schools to benefit from the donation include Golden Valley, West Ranch, Bowman, Canyon and Saugus. In addition, the junior high schools of Arroyo Seco, La Mesa, Placerita, and Sierra Vista, as well as Sequoia Charter School, will also receive the much needed shade structures.
Owen, Patterson & Owen is thrilled about the donation, and with the continued leadership Mr. Patterson brings both to the firm and to the Santa Clarita community.
"Mr. Patterson is an inspirational leader for our firm. His efforts on behalf of the Hart School District are a clear manifestation of our firm's ongoing and solid commitment to supporting our schools and community. We are both honored and motivated to try to do more as a result of the example he sets," stated Partner Greg Owen.
###
ABOUT OWEN, PATTERSON & OWEN LAW
Owen, Patterson & Owen is a personal injury law firm serving Los Angeles, CA and the surrounding areas, including Lancaster and Santa Clarita. The firm specializes in accidents, personal injury & wrongful death, defective drugs & medical devices, abuse & neglect, and product liability. Learn more at http://www.santaclaritapersonalinjuryattorney.com
ABOUT SANTA CLARITA FACILITIES FOUNDATION
The Santa Clarita Valley Facilities Foundation is dedicated to locating, acquiring and developing sites for new schools in the William S. Hart Union High School District. Since 1998, the Facilities Foundation has continued to make great progress toward fulfilling its mission to assist the Hart District in providing school facilities through land acquisition and infrastructure development. Learn more at http://www.scv-ff.org/